From the warm forges of glassblowers' to the grandeur of the Doge's Palace, this day was about getting more familiar with Venice's rich history. Also: Conspiracy theories.
February 5 – Day 3
To avoid another mad search for a cafe, we ordered breakfast in and discovered belatedly that an Italian latte does not have coffee in it. Once the croissants were consumed, we set out for Fte. Nove to catch a water bus to Murano (the glassblowers' island). The day very foggy and cold, so again we had the streets mostly to ourselves.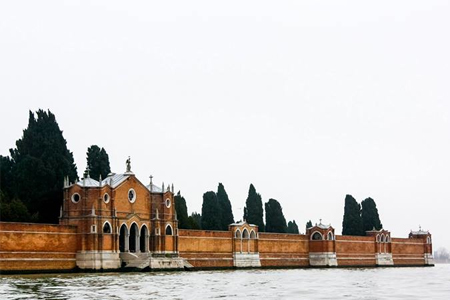 The water bus itself was surprisingly easy to navigate, and soon we were on our way. We sat outside in the back of the boat so we could take many, many pictures of Venice from afar. The route took us past Cimitero isola di San Michele (pictured above), the cemetery island (not to be confused with Poveglia, the plague/mental institution/crazy haunted island).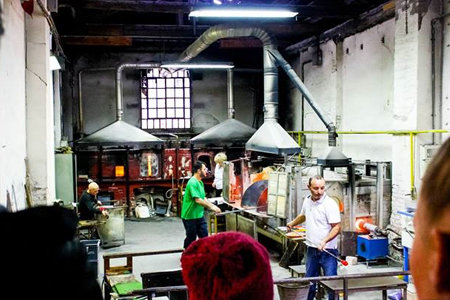 We arrived in Murano and were directed around the fringes of the island to a glass workshop. When we arrived, we were the only ones there, so we got to sit and enjoy the forge for a while by ourselves. Needless to say, we took our journals out and scribbled furious notes. There is something graceful and delicate, but also very masculine, about glassblowing, and it's always fun to watch.
Eventually the tourist groups joined us and a guy gave a speech about how the process works. Then we were corralled into the giftshop. They were having a sale on jewelry, and I bought myself some replacement earrings for the ones I lost from my last trip (yay!).
We meandered around Murano for a while after that, stopping in at a few shops along the way. We went into San Pietro Martire, a rather modest but gorgeous church. The sacristy had amazing wooden carvings of figures from mythology and scenes from John the Baptist's life. They were so detailed you could see the veins in the men's arms, and so expressive it looked like they had been turned to wood instead of carved. There were also relics upstairs in little jars, and we wished we knew more Italian or more about Catholicism.
The Murano Glass Museum (covered in our museum pass) was next on the list. It had a fascinating display on the history of glassmaking in Venice, from the early B.C.'s to modern day.
Then we made a pit stop for lunch, bought some masks at a local shop, and got back on the water bus to S. Marco's. The sun tried to come out but didn't quite make it.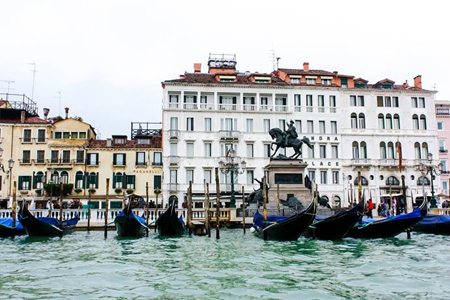 Once at S. Marco's, we went straight for the Doge's Palace (also covered by our pass). It reminded me a little of the harem in Istanbul—ornate and beautiful, but enclosed and cold like a prison. We actually stopped to sit down in some of the rooms so we could take notes, it was so overwhelmingly interesting.
Every room was magnificent and grand, piling one on top of the other, so that you kept thinking, "This is the grandest room. I am impressed." Then you'd go through the door and see a room 20x bigger and better. By the time we got to the "finale" room, it was like, "Okay, we get the point! You guys are really, really rich." It made the Empress' Palace (Museo Correr) look downright modest.
This was also where we first learned about the Council of Ten. If there are not enormous conspiracy theories about them I will lose all faith in humanity, because if any government group deserved conspiracy theories it's this one.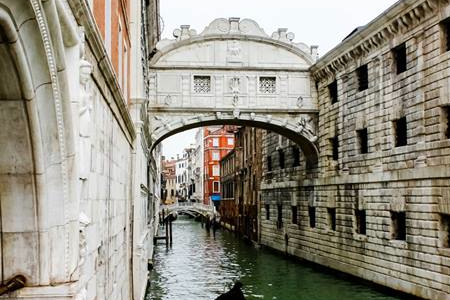 The armory was stunning (so many crazy crossbows!) and the prisons were very neat (somehow I'd missed before that the Bridge of Sighs connected the palace to the prisons). We ran out of time and had to rush down to the shop just as it was closing. They had a mini crossbow that looked functional and I really, really wanted it, but decided that the airport people probably would not appreciate finding that in my carry on.
After a rest at the hotel, we managed a slightly more respectable late-ish dinner at a place around the corner. Best pizza of the trip, and lemon sobette for dessert. It was a cozy, slightly crowded restaurant, all candlelit and with nice views of the streets. A good finish to a hectic day.