On this day I discovered how valuable a perfume exhibit can be, I solidified my status as a nerd forever, and chased the sunset across Venice.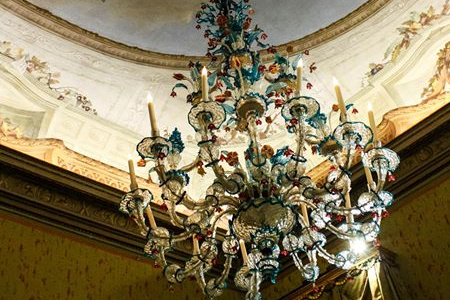 After another breakfast in, Annie and I set out to find Museo di Palazzo Mocenigo (a costume/textile museum, also covered in our magical museum pass). The rooms were largely done up in 18th century style, which was great for my research. They had more stunning glass chandeliers (as seen above—picture taken prior to being told this was yet another museum with no photography allowed).
The costume collection was relatively small, but still very interesting. One room had a bunch of women in period dress wearing masks, with a little girl in the center with her mask in her hands and no face underneath. It's deep, man.
They did have a very satisfying amount of men's costumes and an especially splendid number of waistcoats. Annie and I selected which styles would suit my male characters and she may or may not have snuck a few photos with her silent digital camera (my SLR is far too noisy for stealth).
One thing we hadn't expected was the perfume exhibit at the end of this museum. Sounds boring, but it wasn't. They had a little video about the history of Venetian perfume making and trade, and then several rooms where they'd laid out the various herbs and soaps and scents so you could smell and sample. This was a little difficult for me, as I had a cold, but I lingered in these rooms long enough to get suspicious looks from the museum workers, smelling everything repeatedly and picking perfumes for my characters.
So nerdy. So fun.
I also discovered that I personally really like the woody and natural smells (much more than strong flower scents). Good to know, I guess.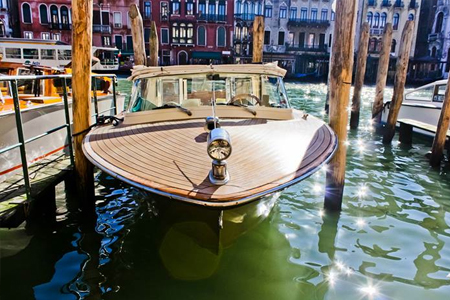 When we went into the museum, the day had been foggy and gray. But we emerged into bright sunlight on what turned out to be the most gorgeous day of our visit. On our way to the next museum, we stopped at one of those outdoor restaurants on the Grand Canal and indulged in a slightly more expensive meal to enjoy the sunshine.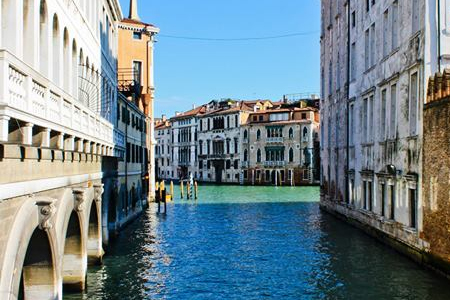 Ca' Rezzonico was a little difficult to find, but we made it there eventually. We entered through a huge ballroom and worked our way at the standard snail pace, journals and pencils at the ready. I really need to stop being surprised by the size of all these palace rooms, but seriously. How can rooms so big be in these (relatively) small-looking Venetian homes?
I ended up buying the guide to this house to use in my palace and girls' school brainstorming later, because it had so many interesting nooks and details.
While we were still in the house, on the top floor, we spotted ye olde Ponte Dell'Accademia (the bridge with the locks), so when we got out we headed that way. The night before I'd bought a lock and permanent marker and gone to town.
"But who would Alyssa have to put on a lock of eternal love?" you ask. "Alyssa the notoriously single twentysomething has a special someone??"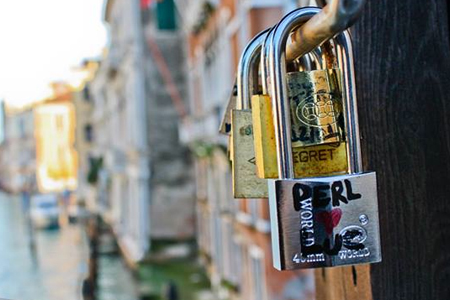 Not one special someone. Two. Namely: My main characters in Illuminate! YES, I KNOW. ADORABLE!
So yes, I did make a lock with my MCs' names and I did put it on the bridge and I am a geek but someday that lock will be worth a million dollars and THEN WHO WILL BE LAUGHING? (Spoiler: Probably whoever finds that lock and makes the million dollars.)
We booked it to S. Marco's after this, hoping to get up in the tower before it closed, but didn't quite make it. Since we'd purchased several items/masks throughout the day, we hurried to the hotel to drop our stuff back and then rushed back to S. Marco's. We stopped to get some gelato on the way, and then sat to watch the sunset and eat out delicious gelato.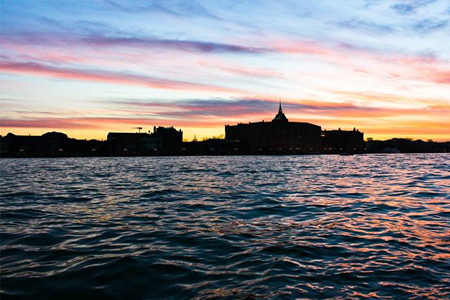 When the sun got low, we decided to chase it across the island. We ended up on another side where we could sit and watch as the sun dipped below the buildings. We got out our journals and took some notes, and just relaxed and listened to the lulling waves and the far off hum of boat engines.
We had a long trek between us and the hotel, but it was beautiful—just us and shimmering, indigo canals. Church bells tolled the hour as we walked past, and the sound echoed off the buildings as if the bells were calling out to themselves.
After a stop at a pizzeria for dinner, we did finally manage to get to Rialto Bridge. We checked the timetable for the water bus in preparation for our departure the next day, grabbed some items from a bakery, and went to the hotel to pack and collapse.