On our last day, we met a real-life eccentric bookshop owner and did the two great S. Marco's sights in under 45 minutes with the power of Winter!Venice. Then we journeyed home and (spoiler) made it back to England.
I got up a bit early to finish packing. We feasted on the same room service breakfast (with the addition of the bakery goods we'd got the night before). Our flight didn't leave until four that afternoon, so we checked out, left our bags at the hotel, and went off to see what was left to be seen.
A friend of mine had posted 18 Bookstores Every Book Lover Must Visit At Least Once on my Facebook wall, and at the last minute Annie and I decided to try and get to Libreria Acqua Alta. We did find it, eventually, and it did not disappoint.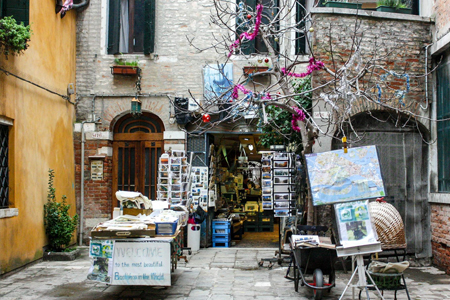 Outside the bookshop are tables covered in old postcards and posters and small bowls of cat food. I picked up two prints of Venice. Inside, it was positively crammed with books—mostly stored haphazardly on shelves or in boats. The owner—a round, grizzly Italian with a cigarette in one hand—pointed us to the back and told us we must climb his book staircase.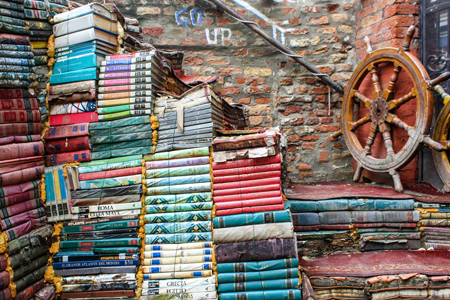 It felt a little sacrilegious, but we climbed up to see over the wall. On the other side was a canal and some really lovely bridges. We climbed back down and wandered among the books for a bit—all of them filmed over in dust, and most of them (unsurprisingly) in Italian. The owner directed us to his fire escape, which is literally a doorway onto the canal.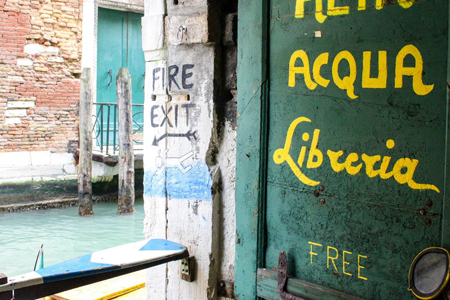 The tight squeezes between precariously stacked books made me very happy I'd opted to steal borrow Annie's purse instead of hauling around my backpack. It was like a bookstore you'd make up, a bookstore too full of personality and too unique to actually exist (but it does!).
As I went to pay for the few things I'd picked up, the owner warned Annie and me, "You two lovely ladies be careful, there are many Casanova in Venice—like me!" He added, "If ladies are flowers, you both are bouquets. What can I say? I'm a Casanova!"
We laughed and departed. What fun!
From there, we returned to S. Marco's and toured St. Mark's Basilica (hoping that the fog would clear enough to do Campanile di San Marco later). The basilica was fairly dark, but the gold mosaic was stunning. You could see the art move from early Christian to Renaissance the higher it went up the walls. My favorite frescoes were of Matthew, Mark, Luke and John under the central dome—all of them writing or thinking with books.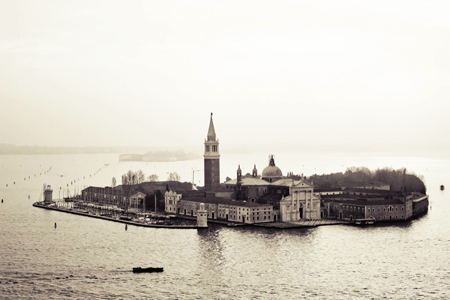 When we came out, the fog hadn't yet lifted but we decided to do Campanile di San Marco anyway. My travel book had warned me that there would be very, very long lines, but we walked right in, paid, and went on the elevator. (Score another point for Venice in the winter!) Despite the fog, the views were gorgeous. You could see islands encased in mist, and red tiled roofs going on and on into the distance, here and there punctured by a tower or steeple.
Back on the ground, we did some last minute mask shopping and then returned to the place it all began—Museo Correr. I picked up the guide to the Doge's Palace at the giftshop, and we settled in at the cafe to get some snacks and drinks. We rested about an hour there before returning to the hotel to get our things.
The rest of the day was largely predictable—we retrieved our luggage, hopped on the water bus, made it to the airport, went through security, went through passport control, sat around for a long time (flight was delayed), flew to Gatwick, grabbed dinner, caught our train to the tube and the tube to Paddington, caught the train to Bath, it was raining, I caught a cab, Annie walked home, and there was much rejoicing and also sleep.
Overall, a fabulous trip, and I'm excited to see how the experience enhances Illuminate!