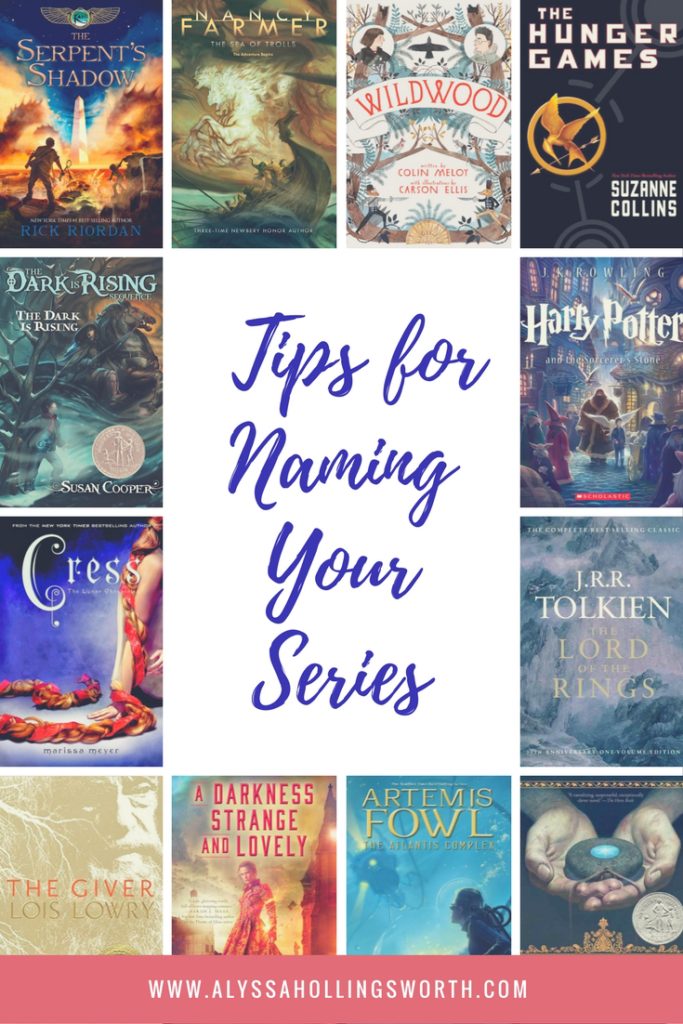 I find myself unexpectedly with a set of books on my hands. Blessings started out as a straight-up standalone book, and Illuminate jumped on board as a companion book/sequel of sorts, and other ideas are still coming.
It occurred to me the other day that I have an actual series, and no idea what to call it. Of course, it's likely that whatever series title I come up with will be changed when/if it goes to publication. But I still need something to call the collective project.
Are you in the same boat? Well, below I've compiled all the research I did for my own brainstorming, and maybe it can help you out, too!
The Way Other Series Do It
In an effort to understand how normal series get their names, I went through my Goodreads records and categorized series' names by the four major trends. I've listed them below for your convenience.
Disclaimer: Several of these series could fit in multiple categories.
1. Named After First Book
The Giver Quartet
(Lois Lowry)
Throne of Glass
(Sarah J. Maas)
Julie of the Wolves
(Jean Craighead George)
Something Strange and Deadly
(Susan Dennard)
Sea of Trolls
(Nancy Farmer)
The Hunger Games
(Suzanne Collins)
2. Named After Place
Wildwood Chronicles
(Colin Meloy)
Gone-Away Lake
(Elizabeth Enright)
Fairyland
(Catherynne M. Valente)
Austenland
(Shannon Hale)
Great Plains Trilogy
(Willa Cather)
Inkworld
(Cornelia Funke)
3. Named After Main Character[s]
Harry Potter
(J.K. Rowling)
Artemis Fowl
(Eoin Colfer)
Kane Chronicles
(Rick Riordan)
Anne of Green Gables
(L.M. Montgomery)
The Ender Quintet
(Orson Scott Card)
Brian Saga
(Gary Paulsen)
4. Named After Theme/Overarching Tie Between Books
Chaos Walking
(Patrick Ness)
The Broken Empire
(Mark Lawrence)
The Queen's Thief
(Megan Whalen Turner)
The Dark is Rising
(Susan Cooper)
The Inheritance Cycle
(Christopher Paolini)
Lord of the Rings
(J.R.R. Tolkien)
5. Series Named After Unusual Element in Story
The Lunar Chronicles
(Marissa Meyer)
Abhorsen
(Garth Nix)
Monster Blood Tattoo
(D.M. Cornish)
The Time Quintet
(Madeleine L'Engle)
Hitchhiker's Guide
(Douglas Adams)
King Raven
(Stephen Lawhead)
Questions to help you find options for your book:
Does your main character have a memorable name? Are they strong in each of your books?
Is your setting unusual? Do all your books take place in the same location?
Is their something strange and memorable in your books–a symbol, character/race, or concept?
Do you have a clear theme that ties the books together?
Do you just really love your first book's title, and does that title encompass the later books as well? (Hunger Games is a perfect example of this, I think.)
To Qualify or Not to Qualify?
Sometimes series have a qualifier. Below are the most common I've seen, with my general definitions. (Disclaimer: I'm no expert.)
Trilogy = 3 books // Quartet = 4 books // Quintet = 5 books
Series = Any number
Saga = Any number, but ~*~fancier~*~
Chronicle = Any number, literary and historical implications
Cycle = Any number, based around central characters or countries, mythological implications
However, the vast majority of books seems to not have a qualifier, and the name stands on its own. So I guess that comes down to a matter of preference.
I'm still going to put some thought into my own series title, but hopefully this will help you with yours!