On the train back from Venice, Annie turned to me and said, "So, Scotland…?" And thus a second writing trip was born. This time, we wanted to attempt to see the northern lights and we invited another friend/classmate Sarah along for the adventure. Everything came together rather last minute, and then we were off!
Day 1 – Travel
Annie and I caught the bus from Bath to Bristol Airport, where we met up with Sarah and caught our plane. It was a short flight—only about an hour and a half. When we landed, I had a text from my mom about something fairly serious that I won't share here for security reasons. I was a bit shaken but at the time I didn't fully understand. We grabbed groceries at the Tesco in the airport so we'd have dinner when we got to the cottage, then went to see about buying bus tickets. Found out that the bus we'd hoped to take was long-since full, so we revisited our plans and decided to go via rail.
After a breather at Starbucks, we opted to take a cab instead of bus to the train station (as the fare was about equal with three of us). We had a very enthusiastic cabby who told us all about Glasgow and insisted on dropping us off a little away from the train station so we could see some of the sights (we didn't mind). Found a Tardis in the street. Got to the train station and bought our tickets (which hurt a bit—more expensive than the bus). Then we settled in a bar/pub that was a bit warmer than the regular train station.
I got some tea and then went outside to call my mom. She told me more about what had happened and it started to actually sink in. When I went back in, I was shaking badly and trying not to cry. Annie and Sarah were amazing and smothered me in hugs and then made me drink my tea, like the good British friends they are (except Annie's actually American, but you know).
We waited around for a bit and finally caught our train. An hour or so in, it started to break down and we limped along for a ways. We had to change seats at one point and ended up at a table with a very friendly old man. He was the sort of chatty that isn't too much (especially as we were all exhausted) and he gave us advice about getting a cab and talked about his love of trains a bit. It was sweet.
At long, long, long lasts we pulled into the Fort William train station and went in search of a cab. The cab drivers were teasing Sarah and we were all too braindead to care. Eventually we found the cottage and tumbled in. We made some sandwiches with our groceries from earlier and tried to warm up, and got to bed at about 1 AM, quite drained but also happy to be there.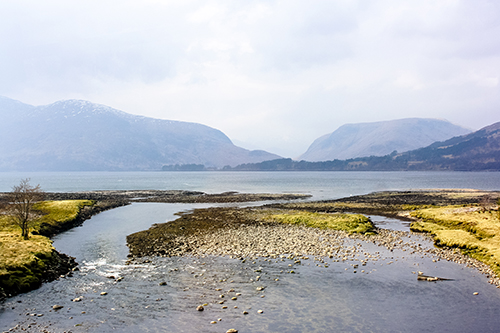 Day 2 – Fort William
Woke up to a mildly sunny day and got my first glimpse of the mountains. Really stunning! We didn't have too much by way of food, so after a small breakfast we caught the bus to Fort William. Wandered about a bit, enjoying the pre-Mother's Day rush. We ended up at the Grog & Gruel, where Mom and I ate almost two years ago. Partook of food and tea and warmed up a bit. From there, we went to explore the remainders of the fort itself (not too much to see) and then hit up Morrison's for groceries. Took the bus back and settled in to do a bit of writing while we waited for sunset.
More upsetting news came in the evening, and I couldn't finish the salami sandwich that was supposed to be my dinner (though I did eat my noodles). But I was really glad I was with friends instead of holed up by myself at home.
Sunset itself was fairly unexciting (too much haze), but we did go down to the loch to walk on the rocky shore and climb over some boulders. Sarah found a little cave, and Annie managed to skip a few rocks, and it was very cold and lovely in the dusk.
Returned to the cabin and did a bit more writing before bed. The heating never really started to work, so unless I say otherwise you should just imagine the three of us cocooned in bubblegum pink duvets at all times.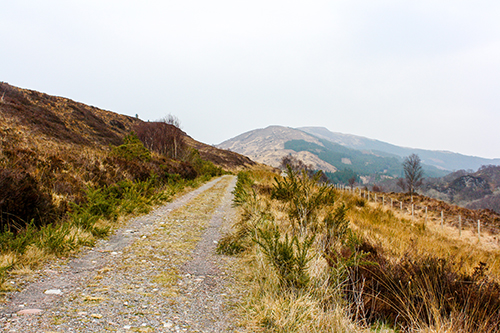 Day 3 – Glen Righ Forest
Woke up and did some writing in the morning. We had lunch in, and I ate my salami sandwich leftovers even though they tasted like Sadness. After lunch, we set out to find Glen Righ Forest and see the waterfall. The walk was very pleasant—steep enough to get us up to great views, but not too taxing (or else all the hill walking in Bath is paying off).
About an hour in, I started singing to myself like I normally do with my younger sister and shared a few American Revolution ballads with Annie and Sarah. We bounced some story ideas off each other and had an all around good time. Also it was warm and (sort of) sunny!
When we got back to the cottage, we brewed some tea and went to sit on the balcony and write. This worked well for a little bit, until cold and hunger forced us in. We had pasta for dinner and then worked on our excerpts for the upcoming grad student reading.
After a serious round or two of practice, we swapped stories. Annie read my excerpt, which is a bit of a romantic scene, in a very dramatic romance novel tone. I read Sarah's sea faring adventure excerpt in a classy Virginia southern accent (that kept trying to turn into a really bad Scottish accent). Sarah read Annie's high school story in a very impressive Aussie accent. There was much laughter and some tears and frankly this is how we should do the actual reading, I think.
We rewarded ourselves with cake, and then ventured outside to try and go stargazing. Though the stars were brighter than in Bath, they were ultimately a bit disappointing—between the caravan park and the haze/clouds, there wasn't much to see. We returned to the house and went to bed.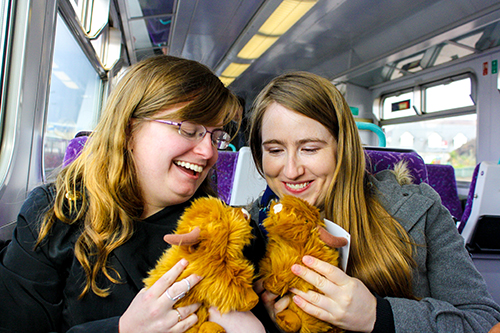 Day 4 – Mallaig
We took a slow-ish morning and headed into town at about eleven. We'd decided we should take advantage of the gorgeous train ride up to Mallaig, so we grabbed our tickets at the station. We had time to kill before the train left, so we went to the local highland museum, which was surprisingly thorough. They had an exhibit on the Green Berets, and I could hear my dad's enthusiasm from across the ocean. Also just some general cool Jacobite Rebellion memorabilia and local history.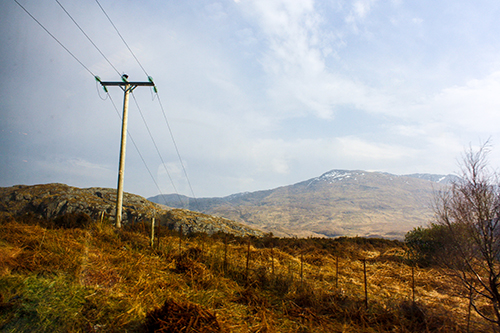 We popped in at Tesco for snacks, then caught the train. I'd been on the Jacobite steam train two years ago with my mom, but it was awesome to see the sights in a different season. Instead of lush green mountains so bright they hurt your eyes, everything was golden and ragged, like California but with more awesome.
Once we got to Mallaig, we did some wandering around the town. Sarah and I serenaded Annie/the locals with Disney songs (she started falling more and more behind, weirdly). Then we grabbed tea and fish and chips at a restaurant. Very yummy. Sarah and I picked up some highland cow plushies because they were fluffy and adorable. Then it was back on the train for the journey to Fort William, and from there a bus ride to the cottage.
When we got back, I went out to the river alone and climbed boulders to the center, which brought back a lot of memories of Appalachian adventures with my dad and siblings. I sat for a while and watched the sun try to break through the clouds. It was nice to just take deep breaths and listen.
The evening was filled with more of the same: Work and dessert and fun. Packed and went to bed in a timely manner.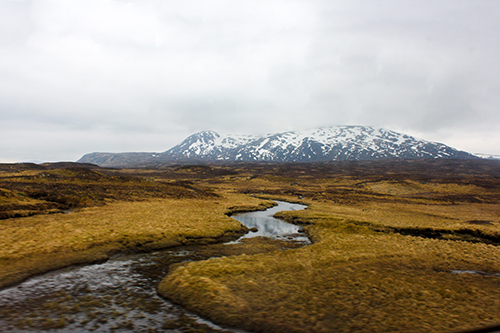 Day 5 – Journey Home
The journey back went much more smoothly, and was full of beautiful landscape. We spent our time staring out the windows, working, and composing songs about tea. Annie and I did our fair share of hitting each other in flails of wonder at the beauty of the mountains, like the dignified people we are (Sarah was much more responsible and had her nose in a book most of the ride).
We did in fact make it back to Bath, despite it being April Fool's Day. And… yes. Enjoy some pretty pictures. THE END.