A friend recently contacted me with this query:
I need some book recommendations for my daughter. She is 15, an avid reader and enjoys historical fiction or fantasy books. She also loves classics like Pride and Prejudice and light humorous stories like Anne of Green Gables. Preferably long and in a series.
Little did she know what she was getting into! By the end of the evening, I had scoured my shelves and my Goodreads lists to come up with 25 books for her daughter.
Then I thought, "Hey, there are other teens out there who like fantasy and history and might appreciate this list. I should put it on the internet!"
And so I have.
25 Books for Young Fantasy/History Lovers, from One Nerd to Another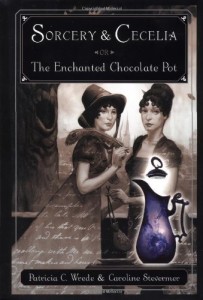 Princess Bride by William Goldman —

Fantasy

 — A classic! Humor, drama, wit. It's an all-around fun read.
Sorcery & Cecelia: The Enchanted Chocolate Pot by Patricia Wrede and Caroline Stevermer —  

Young Adult

— Pride and Prejudice meets magic.
The Lunar Chronicles (series) by Marissa Meyer —  

Young Adult

 — Fairytales retold in a fascinating future-world setting.
Wildwood Dancing by Juliet Marillier —  

Young Adult

 — Retelling of 12 Dancing Princesses set in historic Transylvania.
Crown Duel by Sherwood Smith —  

Young Adult

 — A fun and original take on ye olde fantasy revolution/courtesan story. One of my favorites as a teen!
Sea of Trolls by Nancy Farmer —  

Young Adult

 — Set in historic England, about a boy and his sister who are captured by vikings.
Tribute by Ellen Renner —  

Young Adult

 — Really unique magic/fantasy story centered around the use of telepathy.
Chains by Laurie Halse Anderson —  

Middle Grade

 — Historic American Revolution story set in NYC from the perspective of a slave girl. Sequel (Forge) is also excellent.
The Perilous Gard by Elizabeth Marie Pope —  

Middle Grade

 — Awarded a Newbery Honor. Retelling of the ballad Tam Linn set in Tudor England.
Skellig by David Almond —  

Middle Grade

 — Contemporary fantasy but really beautiful and compelling. (The side character is a homeschooler!)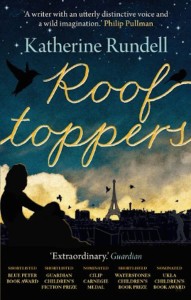 North and South by Elizabeth Gaskell — A rather Jane Austen-esque story, but with the social consciousness of Dickens.
A Tree Grows in Brooklyn by Betty Smith — Early/mid 1900s NYC. A bit of a more serious Anne of Green Gables. Does deal with some hard material. A gorgeous book.
Rooftoppers by Katherine Rundell —  

Middle Grade

 — Orphan in England goes looking for mother in Paris. Absolutely beautiful, fairytale feel.
The Giver Quartet by Lois Lowry  —  

Technically Middle Grade?

 — Everything in this series is brilliant and you will think a lot and probably also cry.
Mrs. Mike by Benedict Freedman and Nancy Freedman —  

Historic Fiction

 — Woman travels to the Canadian wilderness and encounters the intense beauty of nature, as well as its cruelty, while she learns to love her husband. Amazing writing and fabulous story.
Beauty by Robin McKinley —  

Young Adult

 — Retelling of Beauty and the Beast. Fairly basic but good writing, was one of my favorites as a teen.
The Goose Girl by Shannon Hale —  

Young Adult

 — Retelling of fairytale by the same name. Pretty fun. The sequels are also good.
All Fall Down by Sally Nichols —  

Young Adult

 — The bubonic plague in England. SO GOOD. Really heart wrenching. Absolutely lovely.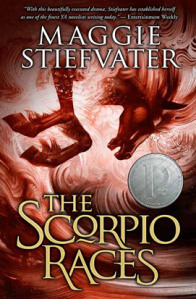 The Scorpio Races by Maggie Stiefvater —  

Young Adult

 — Misty of Chincoteague meets Hidalgo meets Welsh mythology. Fabulous. The Raven Boys series by the same author is also great.
Time Quake (The Gideon Trilogy) by Linda Buckley-Archer —  

Middle Grade

 — Time travel meets 1700s England. Complex time theories and fun characters.
The Dark is Rising (series) —  

Middle Grade

 — Great classic fantasy/mythology. A cornerstone to the genre, and to British place writing.
A Magic Most Deadly by E.L. Bates —  

Mystery

 — Downton Abbey meets Right Ho Jeeves meets magic. Fun murder mystery set in post-WWII. A really entertaining read.
Seraphina (series) by Rachel Hartman —  

Young Adult

 — Fantasy. Dragons done like you've never seen them before. Great characters, great writing.
Shadow and Bone (The Grisha series) by Leigh Bardugo —  

Young Adult

 — Vivid fantasy-Russia worldbuilding and a compelling story. Hard to put down.
The Knife of Never Letting Go (Chaos Walking series) by Patrick Ness —  

Young Adult

 — Intense. Firefly meets Mad Max (2015). Thought-provoking and addictive.
So there you go. What books would you recommend to a fantasy/historical fiction teen? Leave a comment below!