When I first began writing my YA fantasy novel, Illuminate, all I knew about the story was that it needed to include illuminated manuscripts. The problem: I only had a scattering of knowledge about illumination.
In this entry, the first of a series about my research adventures, I'm going to talk about the places I went, the books I read, and some of the weird things I learned. Hopefully this will be entertaining and educational–and perhaps help another young writer on their way!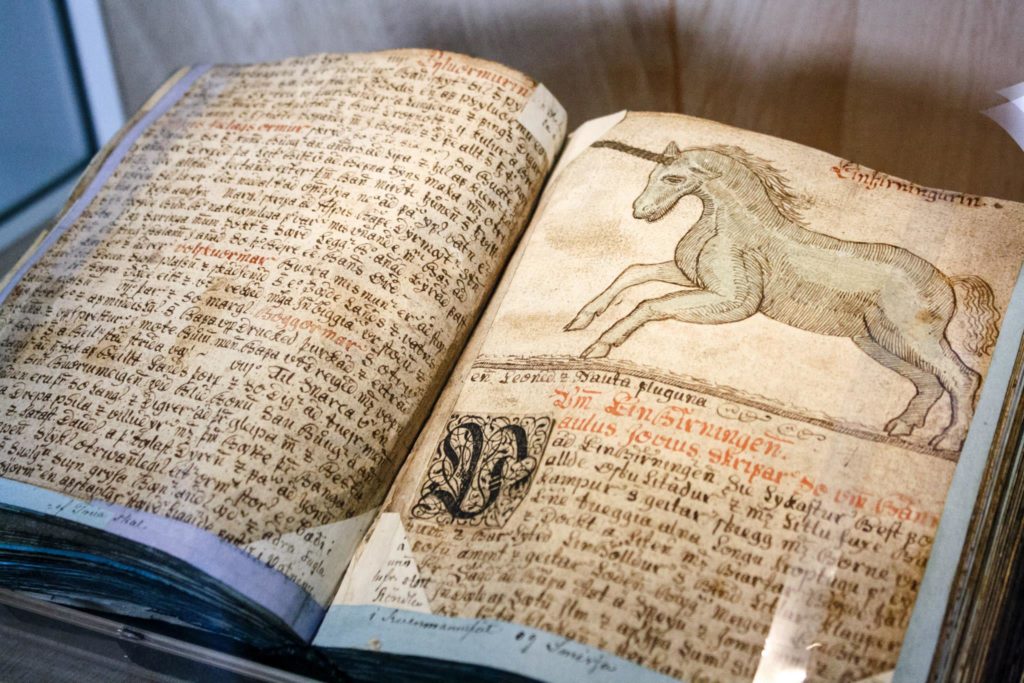 Research Trips: The Places I Went
Living in England during my master's opened a lot of opportunities to see illuminated manuscripts firsthand. In fact, that was how I first got really hooked.
The British Library
During my semester abroad in 2012, I had the immense luck of happening upon Royal Manuscripts: The Genius of Illumination, a special exhibition in the British Library. This frankly overwhelming collection covered many rooms and gave me my first in-depth introduction to the art/writing form.
Later, I returned a few times to the library's permanent exhibits to drool over their (much smaller) displayed collection. There really is nothing like getting your nose as close to the glass as possible and studying the gold leaf in person.
If you want to check out the British Library's collection but can't get there yourself, try exploring their online archives.
Trinity College Library
Again during 2012, I made a trip to Trinity College Library in Dublin to see The Book of Kells. I must turn in my hipster card by admitting that I first found out about this famous manuscript through the animated movie The Secret of Kells (SO GOOD), but my appreciation of it only improved after reading How the Irish Saved Civilization (spoiler: they kept writing).
At the time that I visited (both here and my first trip to the British Library), I had no idea that I would one day write a story about a girl's school full of illuminators. But while the British library blew me away with its art, this exhibit wooed me with the details (and mysteries) about the creators of The Book of Kells. The human touch behind this ornate work got my story-brain a-churning.
Cambridge
After returning to England in 2013 for my master's, I began my research in earnest. A friend and I traveled to Cambridge to visit the Fitzwilliam Museum (no relation to Mr. Darcy, sadly), said to be one of the best for illuminated manuscripts in the country. Their collection was disappointingly small (perhaps because the ones I'd been to before were so massive).
Cambridge has occasional festivals that feature illuminated manuscripts, but unfortunately the dates never worked for me. Something to research if you're on the quest, though!
Venice
Illuminate takes place in a pseudo-Venetian setting, so when my friend Annie and I went on scouting trip to Venice I was on the hunt for other sorts of research. But it was amusing just how often we would turn the corner of a museum and find an illuminated manuscript waiting for us!
At the time of this trip, I was reading The Guilded Page, and my knowledge of the history of guilding was at its peak. I had an immense amount of fun guessing the period and country of origin for the manuscripts before I looked at the info plaque, and often I was right! (Don't ask me to do that now, though…)
It was also fun to study the real books while reading this guide, so that I could see with my own eyes the different types of gold leaf application and the differences between gold leaf and gold ink, not to mention embossing styles. #nerd
Iceland
While in Iceland in 2014, I visited the Culture House and the Settlement Museum. Both have collections of manuscripts (though, off the top of my head, I don't remember if they had specially illuminated manuscripts). It was fun to see an entirely different cultural style in manuscript composition and ink-usage, while at the same time to spot the similarities between these books and the ones I'd seen elsewhere.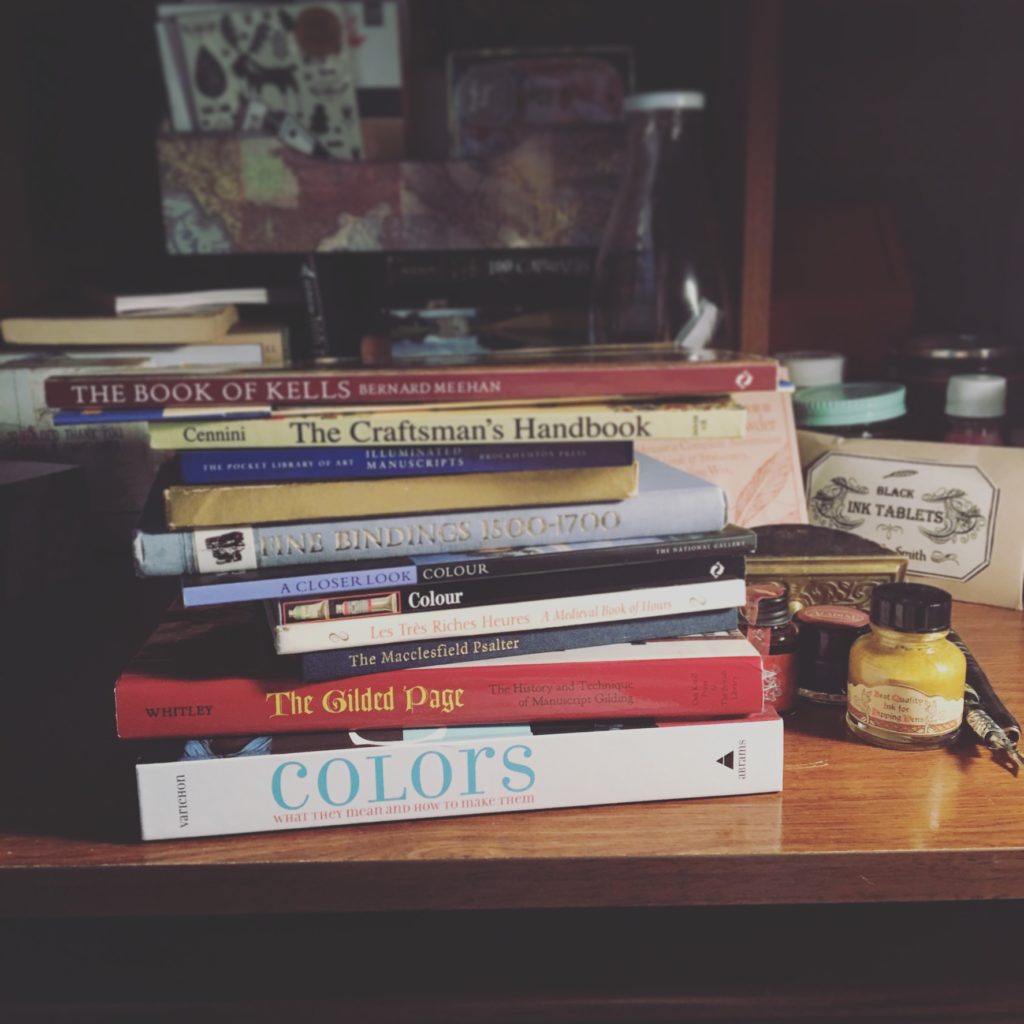 Research Study: The Books I Read
My reading collection for this was extensive – perhaps, maybe, even a little excessive considering how few scenes in the final draft show characters actively creating books. But because this was part of my master's, I had a lot of time to spend reading, and I loved every second!
Pictured above are the books I bought and keep ready on my shelf for reference. Below is a complete list of the 20-odd books I read:
Illuminated Manuscripts – Robin Plumme
Les Tres Riches Heures: The Medieval Seasons – Millar Meiss
The Mont Saint-Michel Manuscripts – Jean-Luc Leservoisier
Exploring the Book of Kells – George Otto Simms
The Golden Age: Manuscript Painting at the Time of Jean, Duke de Berry – Marcel Thomas
The Macclesfield Psalter – Stella Panayotova
Scribes And Illuminators – Christopher De Hamel
The Craftsman's Handbook – Cennino d'Andrea Cennini
The Illuminated Manuscript – Janet Backhouse
The Gilded Page: The History & Technique of Manuscript Gilding – Kathleen P. Whitley
Celtic and Anglo-Saxon Painting: Book Illumination in the British Isles, 600-800 – Carl Nordenfalk
A Millennium of the Book: Production, Design & Illustration in Manuscript & Print, 900-1900 – Robin Myers
Artists' Pigments c. 1600-1835: A Study in English Documentary Sources – R. D. Harley
The Book of Kells – Bernard Meehan
The Pocket Library of Art: Illuminated Manuscripts – Robin Plummer
Fine Bindings 1500-1700 – The Bodleian Library
A Closer Look: Colour – The National Gallery
Colour – ??
Colors: What They Mean and How to Make Them – Anne Varichon
Rubáiyát of Omar Khayyám – Illuminated copy, translated by Edward FitzGerald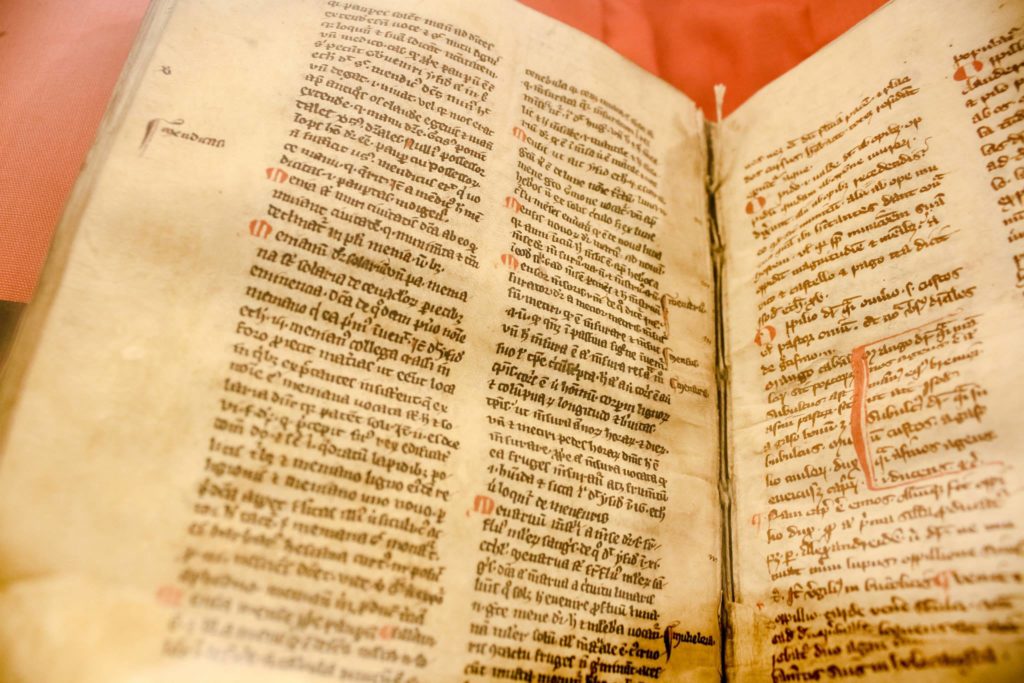 5 Cool Things I Learned
Lapis lazuli is the rock used to make pigment for the most beautiful blue inks. This particular shade of indigo was renowned in the ancient world, and for a long while it was only mined in Afghanistan. In fact, the blue used in The Book of Kells (famous Irish illuminated manuscript) came from Afghanistan! (This fun fact is paraphrased from The Book of Kells by Bernard Meehan, if you want to learn more!)
In some scriptoriums, the books were kept in skin satchels and used to hang up on wooden pins along the wall, instead of having a place on shelves or in cupboards. After the wind had blown hard on a stormy night, the monks would ask one another: "Did you hear the library?", as all the satchels swayed and rattled in the breeze! (This fun fact brought to you by Exploring the Book of Kells by George Otto Simm.)
No facsimile can ever give the tactile experience of handling and running one's fingers across soft leaves of medieval parchment. Even the smell is quite different from that of paper and in fact varies enormously with manuscript from one country to another. Within moderation a bit of handling it said to be good for manuscript because parchment, like leather, responds well to movement and can lose supplements if untouched for centuries. (This fun fact brought to you by Scribes And Illuminators by Christopher De Hamel.)
Medieval illuminators and miniaturists often recommended dressing in silk garments while working in order not to get fibers from clothing on the surface of their work. (This fun fact brought to you by The Gilded Page by Kathleen P. Whitley.)
In the Middle Ages, certain manuscripts already contained maledictions and anathema likely to stop thieves in their tracks, "To him who shall steal the present book or who, by fraudulent action, shall separate it from the church dedicated to the Blessed Michael the Archangel in peril of the sea, may he be damned by God the Almighty and the angel saints and all the saints and all the faithful in the holy Church of God. Amen." (This fun fact brought to you by The Mont Saint-Michel Manuscripts by Jean-Luc Leservoisier.)
To close with a riddle from Exploring the Book of Kells:
Here is the riddle: An enemy ended my life, deprived me of my physical strength; then he dipped me in water and drew me out again, and put me in the sun where I soon shed all my hair. After that the knife's sharp edge bit into me, and all my blemishes were scraped away; fingers folded me and the bird's feather often moved over my brown surface, sprinkling meaningful marks. It swallowed more wood-dye and again traveled over me leaving black tracks. Then a man bound me, he stretched skin over me and adorned me with gold; thus I am enriched by the wondrous work of smiths, wound about with shining metal. Who am I?