Fall has filled the air (finally!) here in Virginia. It's the season for warm drinks, scarves, and boots. It's also the season for catching the last warmth of the sun by reading on the porch, or staying dry with good books during the October rains.
Below are seventeen books I love to read around this time of year, with their publisher's description included. They mostly fall under the umbrella of YA, MG, and fantasy, because that's what I love. It's ordered roughly by age range. Enjoy!
Serafina and the Black Cloak by Robert Beatty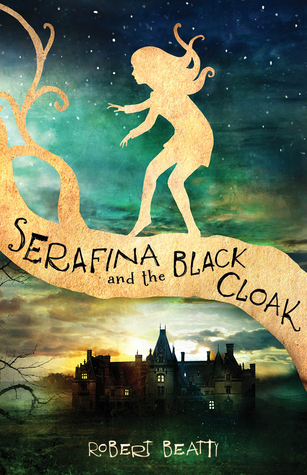 Serafina has never had a reason to disobey her pa and venture beyond the grounds of the Biltmore estate. There's plenty to explore in her grand home, although she must take care to never be seen. None of the rich folk upstairs know that Serafina exists; she and her pa, the estate's maintenance man, have secretly lived in the basement for as long as Serafina can remember.
But when children at the estate start disappearing, only Serafina knows who the culprit is: a terrifying man in a black cloak who stalks Biltmore's corridors at night. Following her own harrowing escape, Serafina risks everything by joining forces with Braeden Vanderbilt, the young nephew of the Biltmore's owners. Braeden and Serafina must uncover the Man in the Black Cloak's true identity… before all of the children vanish one by one.
Serafina's hunt leads her into the very forest that she has been taught to fear. There she discovers a forgotten legacy of magic, one that is bound to her own identity. In order to save the children of Biltmore, Serafina must seek the answers that will unlock the puzzle of her past.
Why it's Great for Autumn: This book reads like a British fairytale in the heart of Southern America. I loved the dark mystery in it, and found Serafina herself delightful.
The Witch's Boy by Kelly Barnhill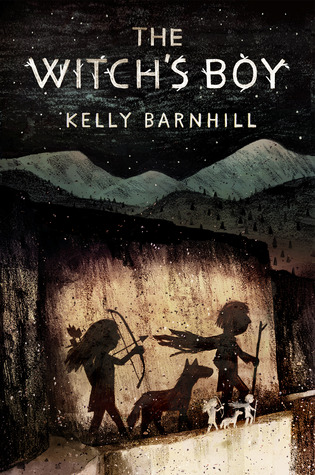 When Ned and his identical twin brother Tam tumble from their raft into a raging, bewitched river, only Ned survives. Villagers are convinced the wrong boy lived. Sure enough, Ned grows up weak and slow, and stays as much as possible within the safe boundaries of his family's cottage and yard. But when a Bandit King comes to steal the magic that Ned's mother, a witch, is meant to protect, it's Ned who safeguards the magic and summons the strength to protect his family and community.
In the meantime, in another kingdom across the forest that borders Ned's village lives Áine, the resourceful and pragmatic daughter of the Bandit King. She is haunted by her mother's last words to her: "The wrong boy will save your life and you will save his." But when Áine and Ned's paths cross, can they trust each other long enough to make their way through the treacherous woods and stop the war about to boil over?
With a deft hand, acclaimed author Kelly Barnhill takes classic fairy tale elements — speaking stones, a friendly wolf, and a spoiled young king — and weaves them into a richly detailed narrative that explores good and evil, love and hate, magic, and the power of friendship.
Why it's Great for Autumn: The magic in this book feels like crisp fall leaves, somehow, and the prose came across as gold-tinted. It's a lovely story with a tint of the otherworldly.
The Great Turkey Walk by Kathleen Karr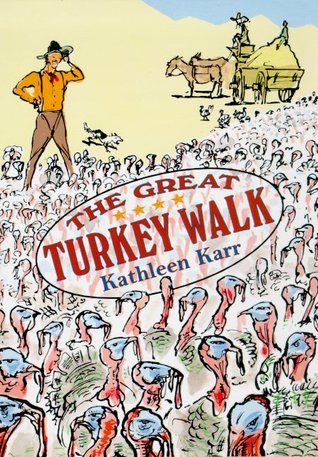 Big, brawny Simon Green, who's just completed third grade (for the fourth time), may not be book smart, but he's nobody's fool. When it's time to be done with school and make his way in the world, Simon hatches a plan that could earn him a bundle. He intends to herd a huge flock of bronze turkeysall the way from his home in eastern Missouri to the boomtown of Denver, where they'll fetch a mighty price. In the year 1860, the hazards of such a trek are many – how does one shepherd the birds across a river, for instance? – but Simon is undaunted. Accompanied by a faithful drover, and eventually to be joined by two boon companions, he undertakes the biggest journey of his young life, in this high-spirited Wild Wild West adventure by an acclaimed author of historical fiction.
Why it's Great for Autumn: Turkeys! Also, this book is hilarious. 
The Perilous Gard by Elizabeth Marie Pope and Richard Cuffari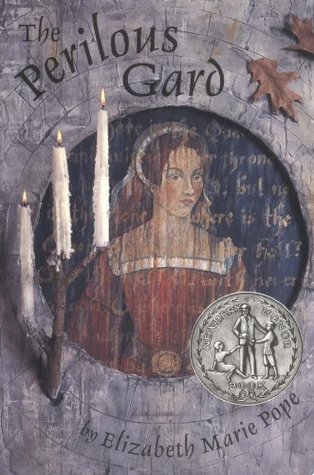 In 1558, while exiled by Queen Mary Tudor to a remote castle known as Perilous Gard, young Kate Sutton becomes involved in a series of mysterious events that lead her to an underground world peopled by Fairy Folk — whose customs are even older than the Druids' and include human sacrifice.
Why it's Great for Autumn: This retelling of Tam Lin is a lush blend of folklore and history. Kate is a wonderfully clever heroine, drawn into dark circumstances but unwilling to play to others' tunes. The romance in this book is one of my favorites in children's lit, and the Fairy Folk are chillingly fascinating. Love it.
The Witch of Blackbird Pond by Elizabeth George Speare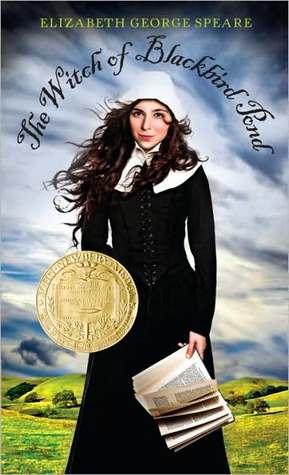 Orphaned Kit Tyler knows, as she gazes for the first time at the cold, bleak shores of Connecticut Colony, that her new home will never be like the shimmering Caribbean island she left behind. In her relatives' stern Puritan community, she feels like a tropical bird that has flown to the wrong part of the world, a bird that is now caged and lonely. The only place where Kit feels completely free is in the meadows, where she enjoys the company of the old Quaker woman known as the Witch of Blackbird Pond, and on occasion, her young sailor friend Nat. But when Kit's friendship with the "witch" is discovered, Kit is faced with suspicion, fear, and anger. She herself is accused of witchcraft!
Why it's Great for Autumn: I love this historical novel when I was a teen, and I love it more somehow as an adult. The characters are vibrant, and the setting comes alive. Also, Nat is amazing.
Wildwood Dancing by Juliet Marillier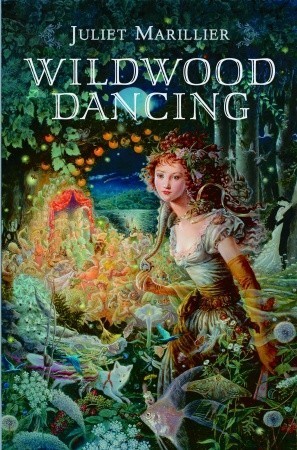 High in the Transylvanian woods, at the castle Piscul Draculi, live five daughters and their doting father. It's an idyllic life for Jena, the second eldest, who spends her time exploring the mysterious forest with her constant companion, a most unusual frog. But best by far is the castle's hidden portal, known only to the sisters. Every Full Moon, they alone can pass through it into the enchanted world of the Other Kingdom. There they dance through the night with the fey creatures of this magical realm.
But their peace is shattered when Father falls ill and must go to the southern parts to recover, for that is when cousin Cezar arrives. Though he's there to help the girls survive the brutal winter, Jena suspects he has darker motives in store. Meanwhile, Jena's sister has fallen in love with a dangerous creature of the Other Kingdom — an impossible union it's up to Jena to stop.
When Cezar's grip of power begins to tighten, at stake is everything Jena loves: her home, her family, and the Other Kingdom she has come to cherish. To save her world, Jena will be tested in ways she can't imagine — tests of trust, strength, and true love.
Why it's Great for Autumn: Come on — a retelling of Twelve Dancing Princesses in Transylvania? This story is spooky and sweet, with a few twists to keep you anxiously reading more.
Skellig by David Almond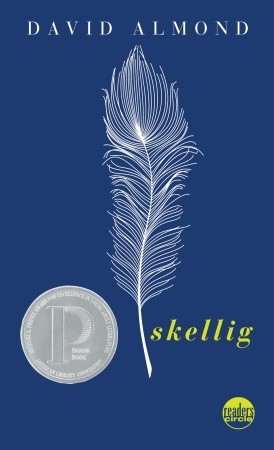 Ten-year-old Michael was looking forward to moving into a new house. But now his baby sister is ill, his parents are frantic, and Doctor Death has come to call. Michael feels helpless. Then he steps into the crumbling garage… What is this thing beneath the spiders' webs and dead flies? A human being, or a strange kind of beast never before seen? The only person Michael can confide in is his new friend, Mina. Together, they carry the creature out into the light, and Michael's world changes forever…
Why it's Great for Autumn: In Skellig, the veil between magic and reality is thin. Anything feels possible under the hand of David Almond's masterful prose.
The Sleep of Stone by Louise Cooper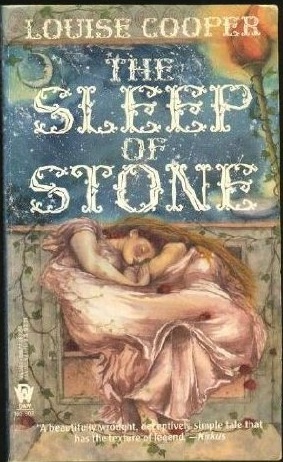 Ghysla, a shapeshifter and wielder of magic, vows to win the love of the brave and kind Prince Anyr, even if she has to deceive him with her powers to do it.
"A beautifully wrought, deceptively simple tale that has the texture of a legend." — Kirkus Reviews
Why it's Great for Autumn: This was one of my favorite books as a teen. I picked it up at a sleepover and didn't stop reading until I had finished. With an autumny bittersweetness to it, The Sleep of Stone is a wonderful story with overtones of myth and magic.
Beauty: A Retelling of the Story of Beauty and the Beast by Robin McKinley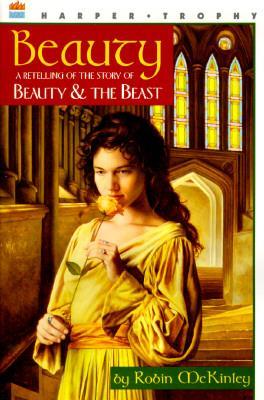 A strange imprisonment…
Beauty has never liked her nickname. She is thin and awkward; it is her two sisters who are the beautiful ones. But what she lacks in looks, she can perhaps make up for in courage.
When her father comes home with the tale of an enchanted castle in the forest and the terrible promise he had to make to the Beast who lives there, Beauty knows she must go to the castle, a prisoner of her own free will. Her father protests that he will not let her go, but she answers, "Cannot a Beast be tamed?"
Robin McKinley's beloved telling illuminates the unusual love story of a most unlikely couple, Beauty and the Beast.
Why it's Great for Autumn: This is a lovely retelling and a perfect comfort read. Rose Daughter by Robin McKinley is also great.
Something Strange and Deadly by Susan Dennard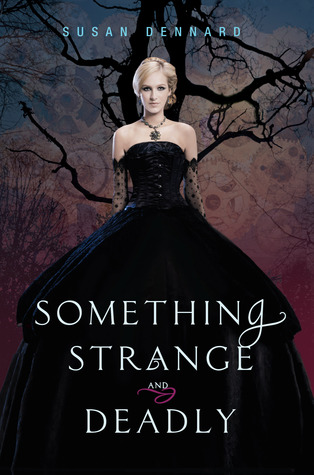 Eleanor Fitt has a lot to worry about.
Her brother has gone missing, her family has fallen on hard times, and her mother is determined to marry her off to any rich young man who walks by. But this is nothing compared to what she's just read in the newspaper:
The Dead are rising in Philadelphia.
And then, in a frightening attack, a zombie delivers a letter to Eleanor… from her brother.
Whoever is controlling the Dead army has taken her brother as well. If Eleanor is going to find him, she'll have to venture into the lab of the notorious Spirit-Hunters, who protect the city from supernatural forces. But as Eleanor spends more time with the Spirit-Hunters, including the maddeningly stubborn yet handsome Daniel, the situation becomes dire. And now, not only is her reputation on the line, but her very life may hang in the balance.
Why it's Great for Autumn: Zombie hunting and Philadelphia. Need I say more?
Chime by Franny Billingsley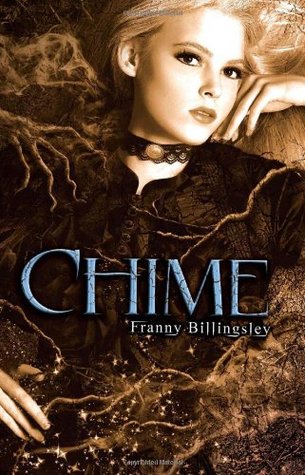 Before Briony's stepmother died, she made sure Briony blamed herself for all the family's hardships. Now Briony has worn her guilt for so long it's become a second skin. She often escapes to the swamp, where she tells stories to the Old Ones, the spirits who haunt the marshes. But only witches can see the Old Ones, and in her village, witches are sentenced to death. Briony lives in fear her secret will be found out, even as she believes she deserves the worst kind of punishment.
Then Eldric comes along with his golden lion eyes and mane of tawny hair. He's as natural as the sun, and treats her as if she's extraordinary. And everything starts to change. As many secrets as Briony has been holding, there are secrets even she doesn't know.
Why it's Great for Autumn: Though I didn't agree with every narrative choice in the book, it can't be denied that it has Autumn stamped all over it — from the deliciously unique prose to the marshy setting.
Magic Most Deadly by E.L. Bates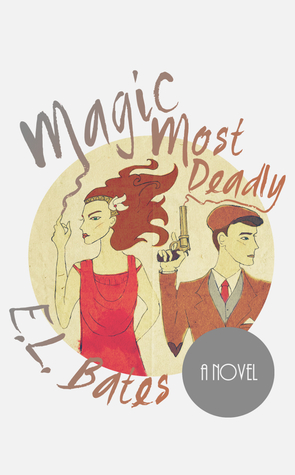 For Maia Whitney, life after the Great War is dull, monotonous, and drab. Nursing soldiers in the bloody fields of France hadn't been easy, but it was better than life at home, standing in her sisters' shadows. There seems no chance for a change until the night she witnesses a murder in the woods.
The last thing Magic Intelligence Agent Lennox Davies needs is this outspoken, independent lady crashing his investigation. Bad enough that a murder happened on his watch; much less that she had to see it happen. He works alone, and he does not have time for Miss Maia Whitney's interference.
But as Maia's own magical talent blossoms and danger thickens around the two with every step they take, before long Len and Maia must rely on each other in a fashion neither has ever done before. If they can't learn to work together, England itself might topple. Even worse, if Maia doesn't learn to control her magic soon, she might do more to destroy them even than their shadowy enemy.
Can they set aside their stubbornness and self-reliance in time to save themselves — and all England?
Why it's Great for Autumn: With its blend of Downton Abbey, The Dresden Files and Right Ho, Jeeves, this book is a wonderful little murder mystery with a side of magic. I really enjoyed E.L. Bates's alternate universe, and found this story amusing and fun. Another good one to read with a steaming pot of tea.
Keturah and Lord Death by Martine Leavitt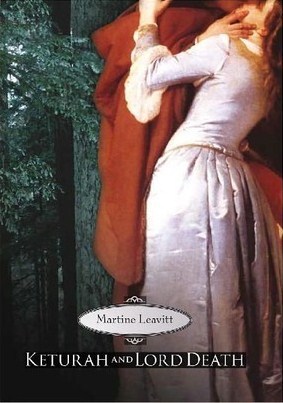 Martine Leavitt offers a spellbinding story, interweaving elements of classic fantasy and high romance in this National Book Award Finalist. Keturah follows a legendary hart into the king's forest, where she becomes hopelessly lost. Her strength diminishes until, finally, she realizes that death is near. Little does she know that he is a young, handsome lord, melancholy and stern. Renowned for her storytelling, Keturah is able to charm Lord Death with a story and thereby gain a reprieve but only for twenty-four hours. She must find her one true love within that time or all is lost. Keturah searches desperately while the village prepares for an unexpected visit from the king, and Keturah is thrust into a prominent role as mysterious happenings alarm her friends and neighbors. Lord Death's presence hovers over this all until Keturah confronts him one last time in the harrowing climax.
Why it's Great for Autumn: This book has a charming mixture of Scheherazade's wit and local legend. It's a quick, fun read, that sits very well with an autumn evening.
Northanger Abbey (Jane Austen: Marvel Adaptations) by Nancy Butler, Janet Lee, and Jane Austen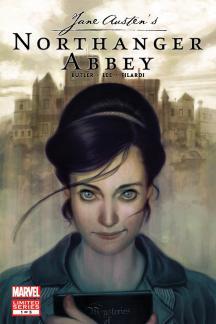 Lovingly adapted from Jane Austen's most humorous work, Marvel Comics is proud to present literature lover Catherine Morland's quest to be the leading lady of her own great romance. Can real life prove the equal of the Gothic novels she finds so enchanting? Can Catherine find true love amid the fictions of others and her own wild imagination? And what dread secrets lie in wait in Northanger Abbey itself? Award-winning author Nancy Butler continues her quest to reinvent Jane Austen's Regency world in the Mighty Marvel Manner. With exquisite illustrations from Janet Lee, 19th-century England comes alive like never before. Discover – along with Catherine Moreland – that while truth may not be stranger than fiction, it can be no less surprising!
Why it's Great for Autumn: Northanger Abbey itself is a wonderful autumn book — full of gothic undertones with a high dose of humor — but I particularly like this graphic novel edition for the beautiful way it portrays Catherine Morland's viewpoint. The pictures are haunting and atmospheric, which makes for great reading while you cuddle up in a soft blanket.
Jane Eyre by Charlotte Brontë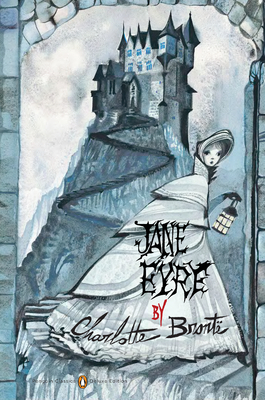 Orphaned into the household of her Aunt Reed at Gateshead and subject to the cruel regime at Lowood charity school, Jane Eyre nonetheless emerges unbroken in spirit and integrity. She takes up the post of governess at Thornfield, falls in love with Mr. Rochester, and discovers the impediment to their lawful marriage in a story that transcends melodrama to portray a woman's passionate search for a wider and richer life than Victorian society traditionally allowed.
With a heroine full of yearning, the dangerous secrets she encounters, and the choices she finally makes, Charlotte Bronte's innovative and enduring romantic novel continues to engage and provoke readers.
Why it's Great for Autumn: A classic autumn read. Absolutely necessary.
A Tree Grows in Brooklyn by Betty Smith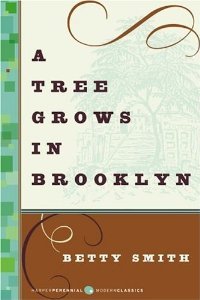 The beloved American classic about a young girl's coming-of-age at the turn of the century, Betty Smith's A Tree Grows in Brooklyn is a poignant and moving tale filled with compassion and cruelty, laughter and heartache, crowded with life and people and incident. The story of young, sensitive, and idealistic Francie Nolan and her bittersweet formative years in the slums of Williamsburg has enchanted and inspired millions of readers for more than sixty years. By turns overwhelming, sublime, heartbreaking, and uplifting, the daily experiences of the unforgettable Nolans are raw with honesty and tenderly threaded with family connectedness — in a work of literary art that brilliantly captures a unique time and place as well as incredibly rich moments of universal experience.
Why it's Great for Autumn: The slow, contemplative tone of this book makes it perfect for quiet afternoons and a cup of warm tea.
Rebecca by Daphne du Maurier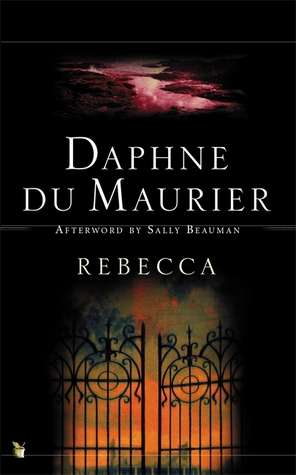 Working as a lady's companion, the heroine of Rebecca learns her place. Her future looks bleak until, on a trip to the South of France, she meets Max de Winter, a handsome widower whose sudden proposal of marriage takes her by surprise. She accepts, but whisked from glamorous Monte Carlo to the ominous and brooding Manderley, the new Mrs. de Winter finds Max a changed man. And the memory of his dead wife Rebecca is forever kept alive by the forbidding housekeeper, Mrs. Danvers…
Not since Jane Eyre has a heroine faced such difficulty with the Other Woman. An international bestseller that has never gone out of print, Rebecca is the haunting story of a young girl consumed by love and the struggle to find her identity.
Why it's Great for Autumn: This spooky, strange story centers around a house haunted by its previous mistress, Rebecca. A wonderful classic that had me chewing my lip!
What books would you recommend for autumn-lovers?