I am not sure how to do a year in review this time around. A lot of people have many things to say about 2016, and much of it isn't encouraging. But what has been black for many has been more complex for me.
Here are some moments from 2016: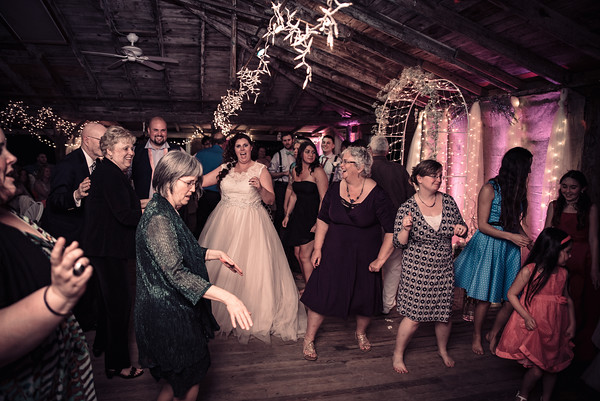 January
I dance the night away with my nieces at one cousin's wedding. Megan and Hana think I've got the moves, and I let 'em believe it.
New diagnosis: Gastroparesis. It is the third autoimmune attack in under a year, and takes my diet from "gluten free levels of inconvenient" to "ask me rather what I CAN eat, not what I can't." Having all the food you love suddenly taken away is difficult, my friends.
As the political party I used to identify with begins to target refugees, I begin to step away. A theme of the year will be learning what I truly believe and what I am unwilling to compromise. This will be hard, especially as loved ones choose differently.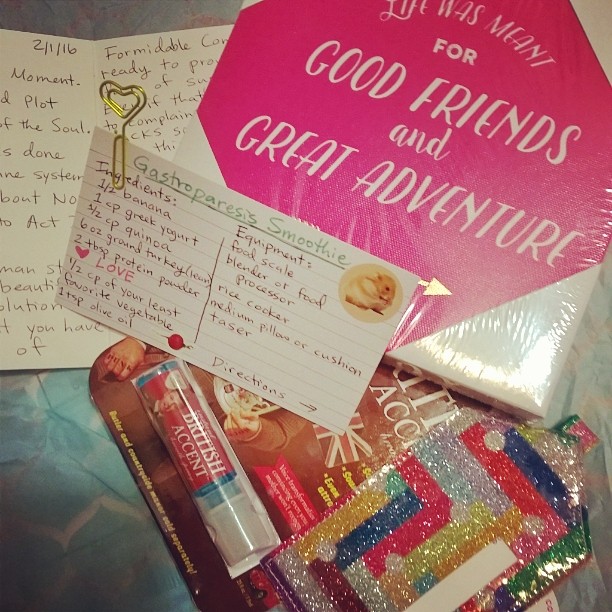 February
I figure out that I could intentionally overdose on insulin, possibly orchestrating a way to die in my sleep. The realization doesn't scare me, so it scares my counselor. She gives me and my roommate (Katie) her personal number. I imagine Maeve, my dog, and Katie every night to remind myself they would have to find my body. It works (along with copious counseling and praying and breathing). I stay alive.
My agent recommends I try writing THE ELEVENTH TRADE. I cry on the phone to my mom, bewildered and overwhelmed and eager all at once. I'm terrified of drafting this new, raw story. Then I dry my tears, and I do it.
Snow one weekend, tornados the next. Katie and I binge watch Parks and Recreation.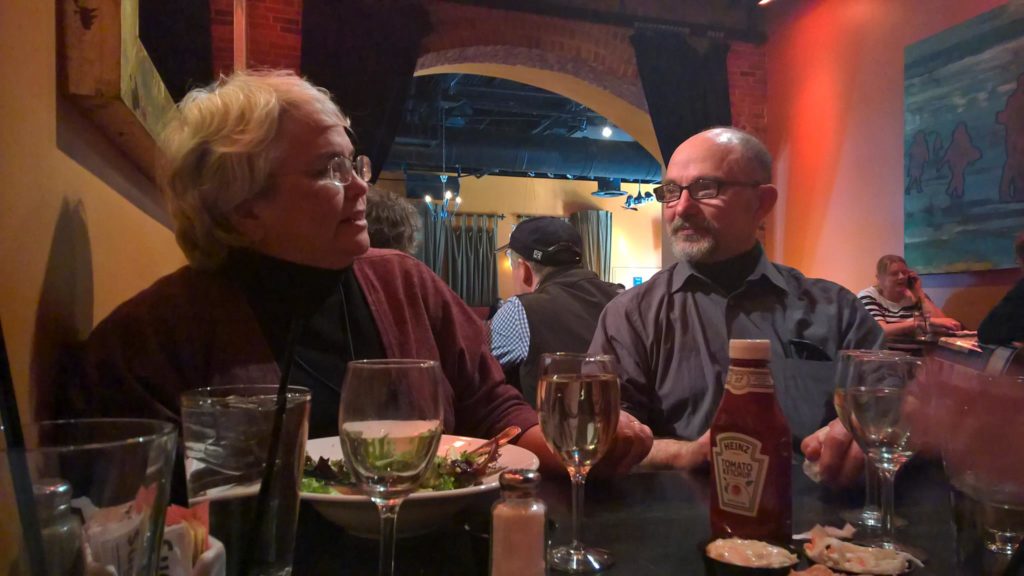 March
Research trip to Boston. My eccentric Bostonian cousin, after reading an excerpt of THE ELEVENTH TRADE, holds up his hands to the buskers in our restaurant and says, "This is Sami. He is here."
Egmont comes public with their acquisition of THE HUNTRESS: SEA by my lovely Sarah Driver. I plaster the news everywhere.
My counselor and I start an autoimmune group for ladies. It rocks.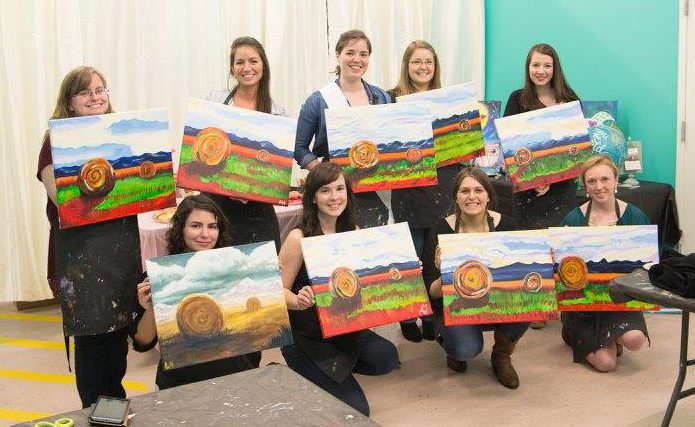 April
I finish the first draft of THE ELEVENTH TRADE. By the end of the month, Amber and I have decided: This is my debut.
At my cousin's bachelorette party (wine and design), my artist sister gets offered a job… multiple times. Her painting looks a little different than the rest of ours.
In the second cousin wedding of the year, a different cousin marries a nerd. By Christmas, my mom has started mixing his name in with my brothers', thereby making it truly official.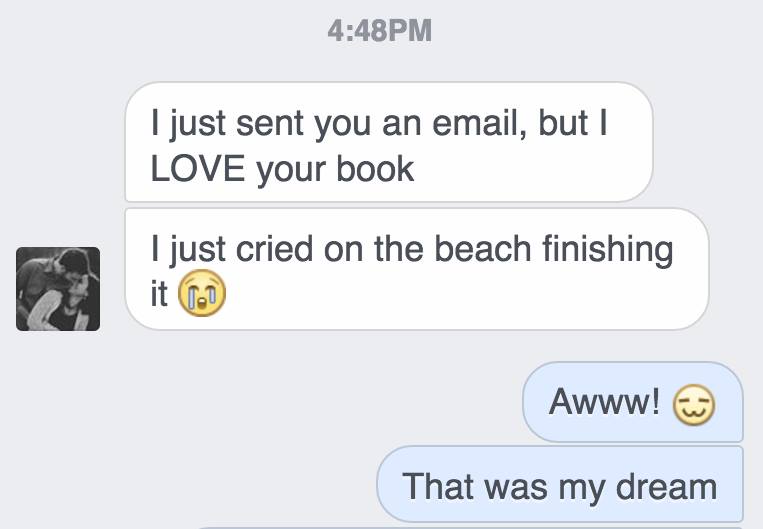 May
My refugee readers return with feedback on THE ELEVENTH TRADE. I feel awed and tiny and amazed by their enthusiastic support for this story.
My roommate, my sister, and I start a tradition of Sunday afternoons between church and English club on the beach at Fort Monroe. Vitamin D is the best.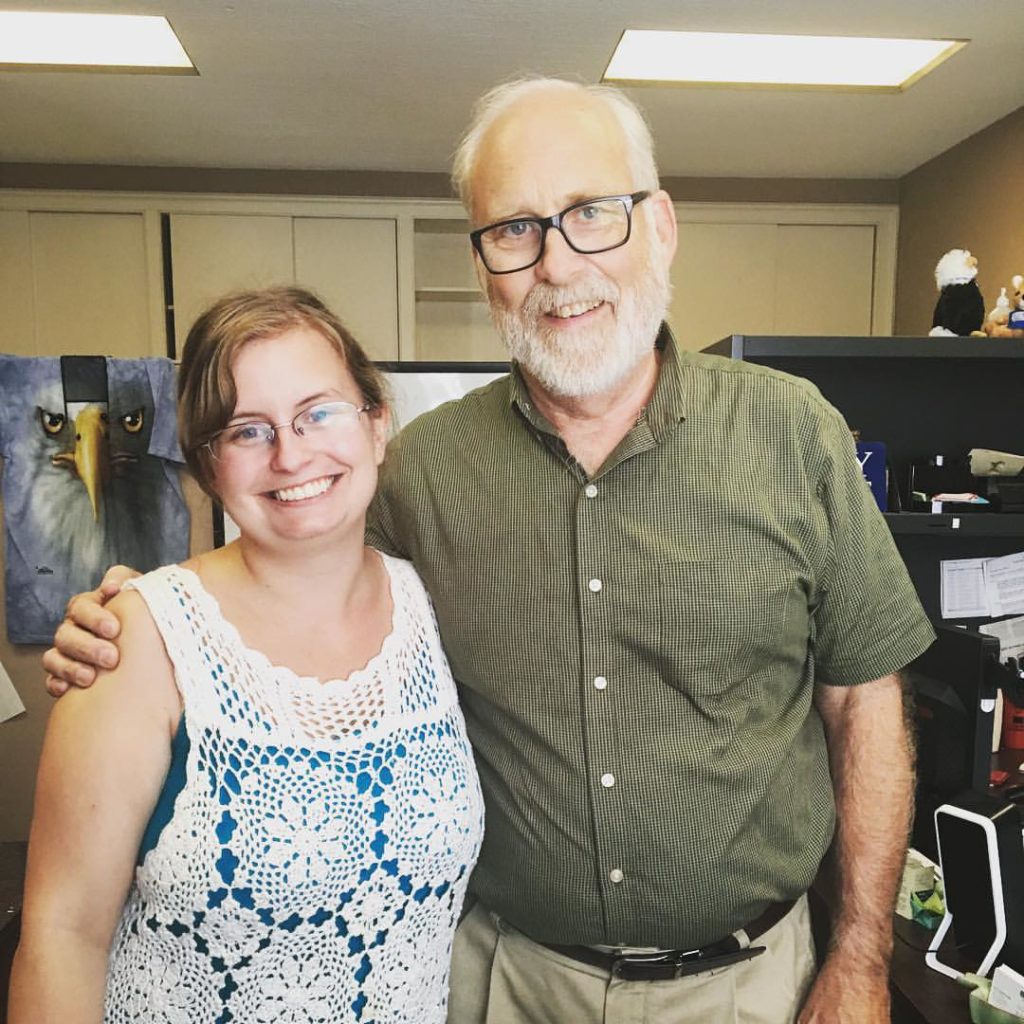 June
All summer, I hang with a friend as he studies for his CPA exam. By the end of the year, he's passed (with perfect scores on two tests). We still exchange memes and Hamilton news.
I surprise my peeps from Berry College with a secret visit on my fairy-godfather-of-photography's last day in the office. This includes visiting extensively with many dear friends. I'm hoarse from talking by the end of the first day.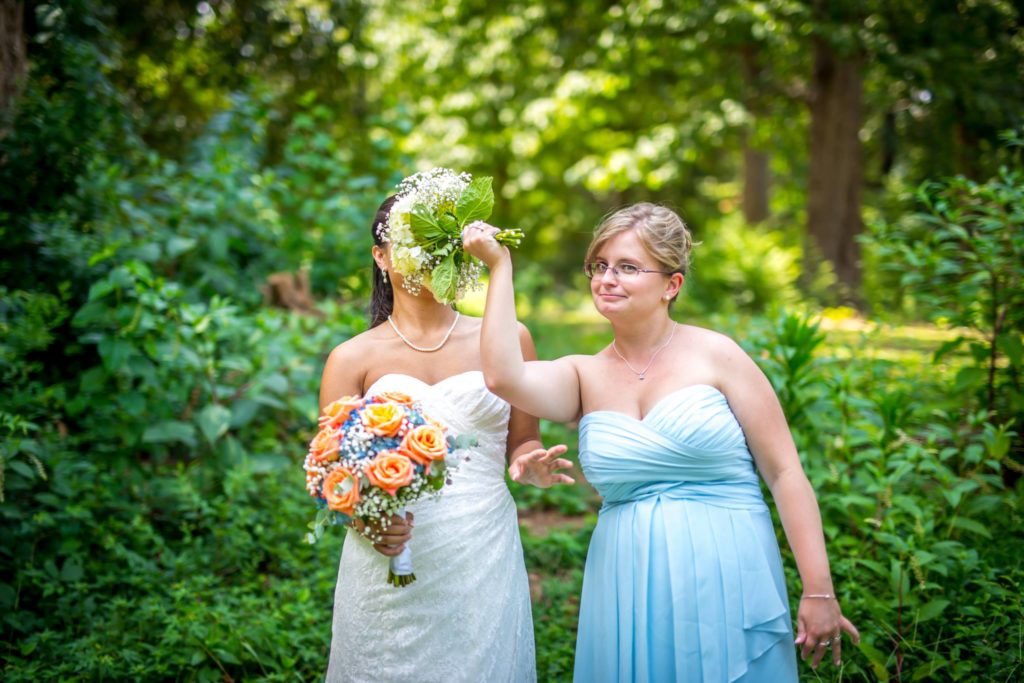 July
Elie Wiesel dies, and I sit on the green hillsides of Georgia and grieve.
I switch to a new Rheumatologist after my old one tells me my literal off-the-chart bloodwork means nothing. The new one is amazing and we start an improved treatment plan right away.
Shocked and sad after a shooting, I go shopping for distraction. I meet a friend in the parking lot, doing the same thing, and we hug and tear up together. We don't know it then, but in less than 24 hours we'll be laughing. That night, the adoption agency calls. The next day, she and her husband have a brand new baby.
As a bridesmaid for my friend Erika, I stand up and give a speech in her honor, even though I know there's a cockroach on the wall behind me. True friendship.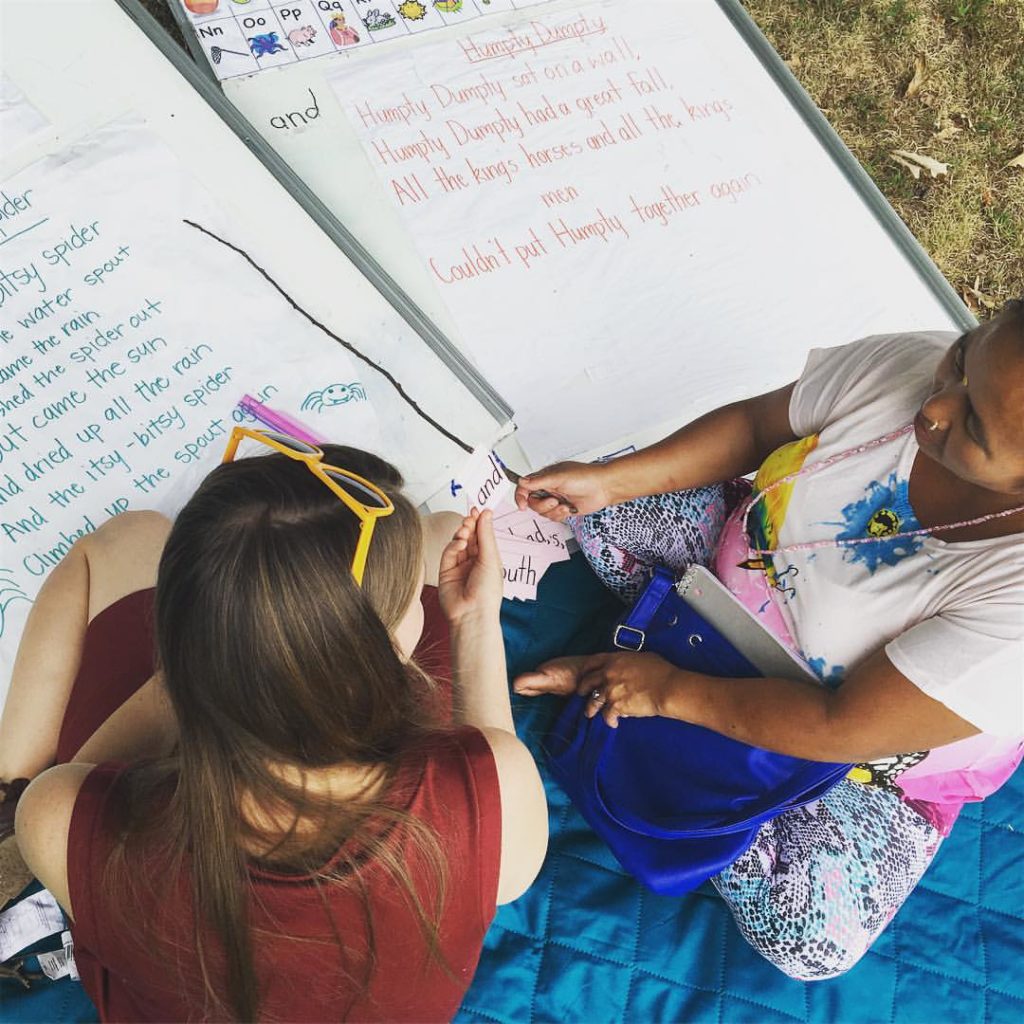 August
This blog hosts its first giveaway, and it goes really well!
I listen to Where the Light Shines Through on repeat almost daily.
Afghan children come running up to me on a Sunday afternoon and, after teaching them some English, we play zombie tag.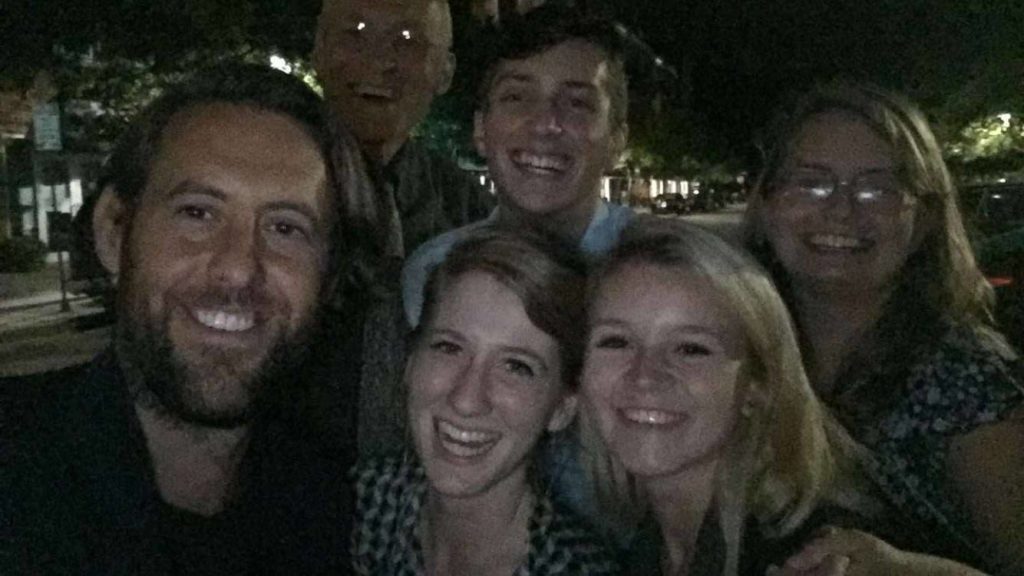 September
The Honors Department (with me) hosts Sean Carasso of Falling Whistles at Christopher Newport University. He amazes all of us with his friendly, inspirational attitude, and students stay for almost an hour after his talk to ply him with questions.
New diagnosis: Osteoarthritis. This is in addition to my Rheumatoid arthritis.
Clowns threaten Katie's elementary school, claiming they'll shoot the teachers in the parking lot. Nothing happens by the end of the day, but we're left with the real question: How is 2016 even a thing?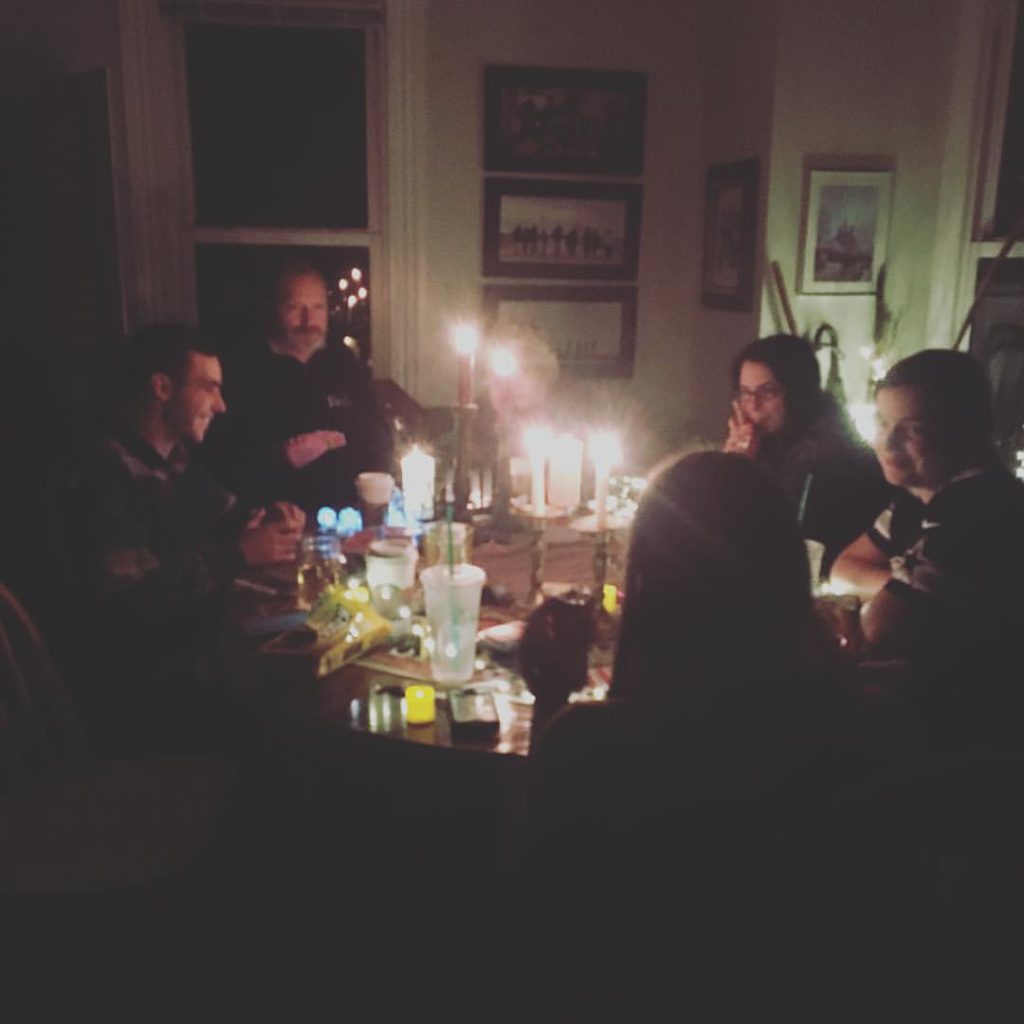 October
There's a hurricane and we play Apples to Apples by candlelight.
I stand in front of a room of college students and share about a country I love: Afghanistan. We analyze poetry to discover cultural truths, and the students eat it up. I walk away buzzing with energy.
Maeve climbs on the roof of my parents' three-story house. I manage to get her off without her falling down the steep slope. I hyperventilate afterwards. Other witnesses refer to her as "spider-dog."
I turn 26. Katie surprises me with a gorgeous Great Gatsby-esque dress I saw months ago but didn't buy. She's been secreting it away all this time.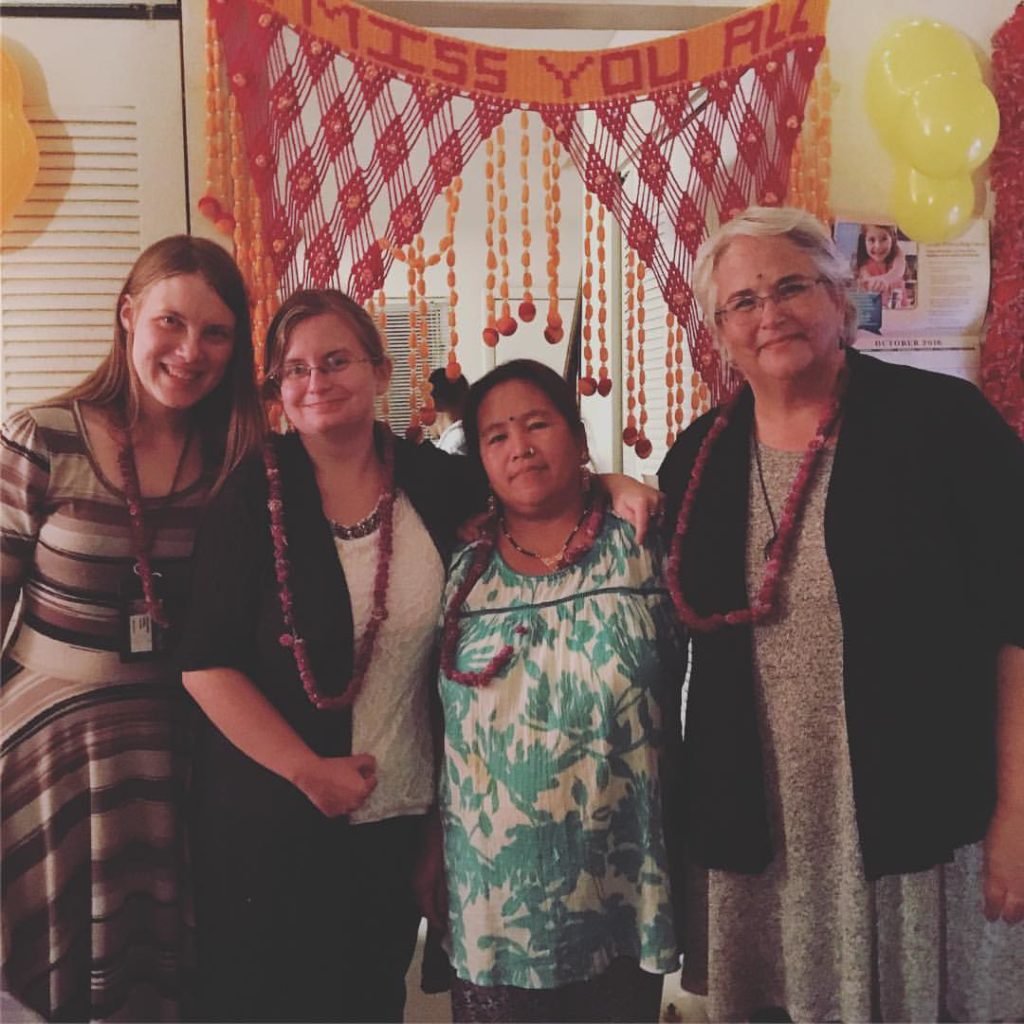 November
On the night of the election, my heart is broken when a dear one and I discover we share secret wounds. I stay up all night in a shattered daze.
My Bhutanese friends invite me, my mom, and Katie to a traditional party. It is a lot of fun, with much laughter, conversation (more or less understood on both sides), and food.
I scramble up rocks to the top of the mountain and terrify my mom.
I launch two websites — WriteOnCon and Childbirth PATHS International. Also, pass 500 subscribers on this blog!
The plane detaches from the boarding zone and I begin to grin. I go to England, where my understanding is expanded and my heart challenged at the amazing Trust Women Conference.
Sarah tells me she loves how I go to bed in a timely way. Then we stay up past midnight talking about our wanderlust and our urgent need to Do More in the world.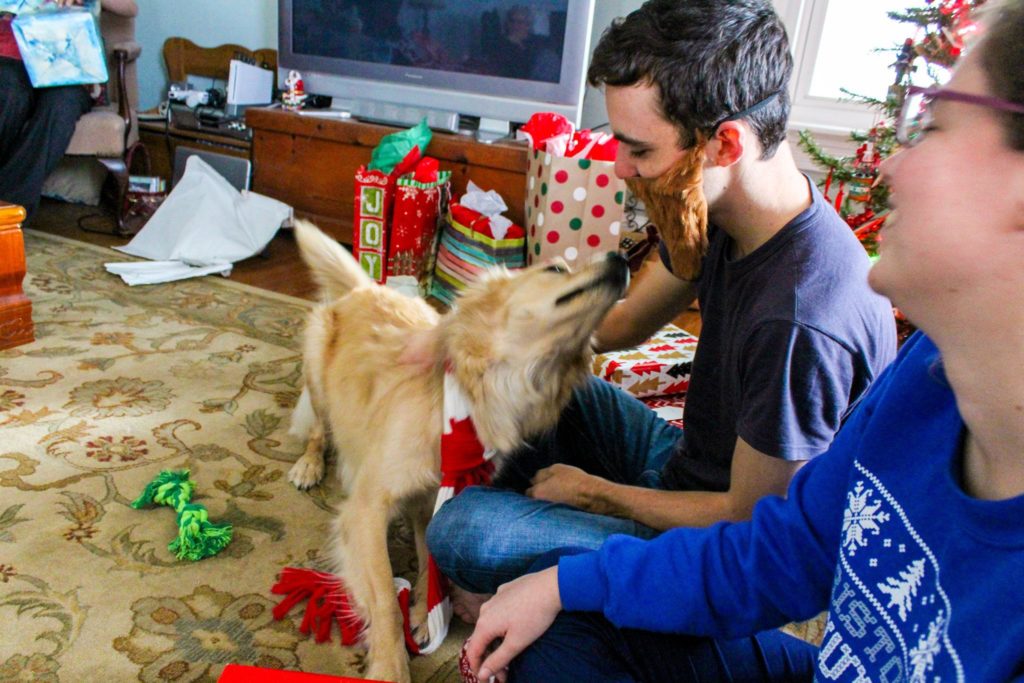 December
At the Skylark Literary Christmas party, my agent has to slither under the table to escape and take a call. It's about me. I wait with my fellow writers, beaming.
I play Santa this Christmas for our stockings. I'm an excellent stocking stuffer, if I do say myself. Also, the "emergency beards" I bought in England are a real hit.
When I tell my little brother about a lifelong dream come true, he nods and says, "Okay, cool." I recognize this for the enthusiastic reaction it is in brother-language, and I give him a hug even though he cringes away.
---
I think maybe a "good" year or "bad" year is something of a myth. This year started with me struggling to just keep breathing. It's ended in the glow of Christmas lights, Moana songs, and new horizons. It might look like a clean arc in retrospect, but the pain and joy have come hand-in-hand.
My word for the year was "wonder." About June, my counselor (who is super rad) more clearly defined what I was looking for: Hope.
That's what I'm taking with me, held like mortar between the broken glass of a stained window: Hope. Impossible, heavy, fractured, fragile hope that cups my chin, lifts my head, and whispers, It will not always be this way.
I don't think life will get easier. In my limited experience, it normally doesn't. But it wasn't meant to be like this. It won't always be like this. And (to quote a whole lot of Switchfoot) when the light shines through the wound, when the beautiful letdown hits me hard, when I remember these skin and bones are a rental —
Oddly, that's when my hope is most secure.