After an enormous flop in my reading habits throughout 2015, I'm finally starting to get on top of things again! In 2016, I read 62 books (out of a 50-book goal). Disclaimer: A lot of these were children's fiction (even picture books), but I'll take what I can get.
Below I've listed some of my favorite discoveries from 2014, along with publishers' descriptions. Enjoy!
Best Picture Books
The Journey by Francesca Sanna (Illustrations)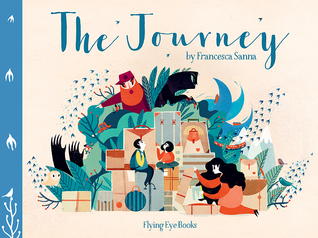 With haunting echoes of the current refugee crisis this beautifully illustrated book explores the unimaginable decisions made as a family leave their home and everything they know to escape the turmoil and tragedy brought by war. This book will stay with you long after the last page is turned.
From the author: The Journey is actually a story about many journeys, and it began with the story of two girls I met in a refugee center in Italy. After meeting them I realized that behind their journey lay something very powerful. So I began collecting more stories of migration and interviewing many people from many different countries. A few months later, in September 2014, when I started studying a Master of Arts in Illustration at the Academy of Lucerne, I knew I wanted to create a book about these true stories. Almost every day on the news we hear the terms "migrants" and "refugees" but we rarely ever speak to or hear the personal journeys that they have had to take. This book is a collage of all those personal stories and the incredible strength of the people within them.
Francesca Sanna is an Italian illustrator and graphic designer who moved to Switzerland to follow her dream to work as an illustrator. She graduated in 2015 from the Lucerne School of Art and Design with a Master of Design with focus on Illustration. The Journey is her first picture book.
A River by Marc Martin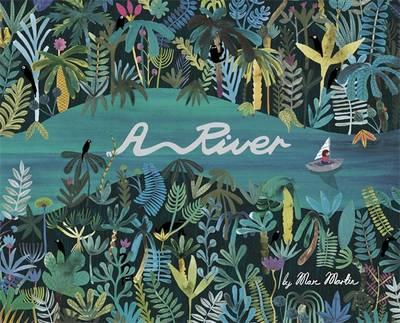 There is a river outside my window.
Where will it take me?
So begins an imaginary journey from the city to the sea. From factories to farmlands, freeways to forest, each new landscape is explored through stunning illustrations and poetic text from this award-winning picture-book creator.
Sidney and Norman: A Tale of Two Pigs by Phil Vischer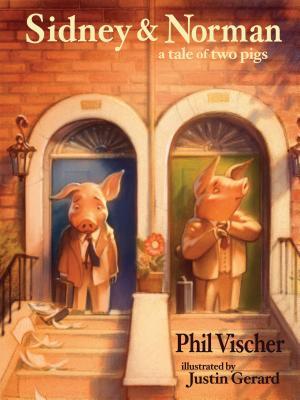 Two very different pigs learn an important lesson about God's perfect love.
A stirring story and lovely illustrations create a multi-layered tale that is both charming and thought-provoking. Sidney & Norman uses the simple context of two pigs living next door to each other to communicate a profound truth about how we judge each other and often judge ourselves. On the surface, Sidney & Norman appears to be a picture book that will entertain kids. But this story has deeply moved adult audiences as well and can help us reconsider how much God loves us and how we love each other.
Best Middle Grade
Esperanza Rising by Pam Muñoz Ryan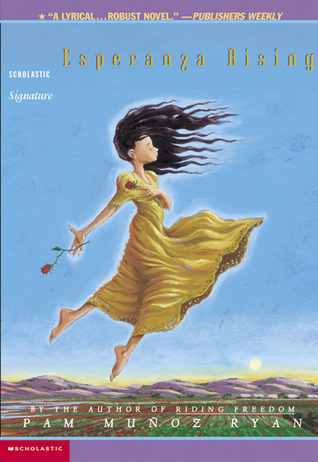 Esperanza thought she'd always live with her family on their ranch in Mexico–she'd always have fancy dresses, a beautiful home, and servants. But a sudden tragedy forces Esperanza and Mama to flee to California during the Great Depression, and to settle in a camp for Mexican farm workers. Esperanza isn't ready for the hard labor, financial struggles, or lack of acceptance she now faces. When their new life is threatened, Esperanza must find a way to rise above her difficult circumstances–Mama's life, and her own, depend on it.
Echo by Pam Muñoz Ryan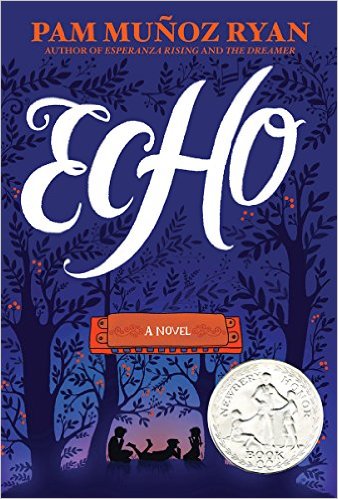 Lost and alone in a forbidden forest, Otto meets three mysterious sisters and suddenly finds himself entwined in a puzzling quest involving a prophecy, a promise, and a harmonica.
Decades later, Friedrich in Germany, Mike in Pennsylvania, and Ivy in California each, in turn, become interwoven when the very same harmonica lands in their lives. All the children face daunting challenges: rescuing a father, protecting a brother, holding a family together. And ultimately, pulled by the invisible thread of destiny, their suspenseful solo stories converge in an orchestral crescendo.
Richly imagined and masterfully crafted, this impassioned, uplifting, and virtuosic tour de force will resound in your heart long after the last note has been struck.
(I'm in a Pam Muñoz Ryan phase.)
The One and Only Ivan by Katherine Applegate (Goodreads Author), Patricia Castelao (Illustrations)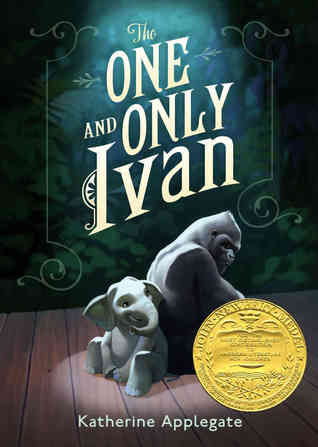 Ivan is an easygoing gorilla. Living at the Exit 8 Big Top Mall and Video Arcade, he has grown accustomed to humans watching him through the glass walls of his domain. He rarely misses his life in the jungle. In fact, he hardly ever thinks about it at all.
Instead, Ivan thinks about TV shows he's seen and about his friends Stella, an elderly elephant, and Bob, a stray dog. But mostly Ivan thinks about art and how to capture the taste of a mango or the sound of leaves with color and a well-placed line.
Then he meets Ruby, a baby elephant taken from her family, and she makes Ivan see their home—and his own art—through new eyes. When Ruby arrives, change comes with her, and it's up to Ivan to make it a change for the better.
Katherine Applegate blends humor and poignancy to create Ivan's unforgettable first-person narration in a story of friendship, art, and hope.
Fun Middle Grade
Serafina and the Black Cloak by Robert Beatty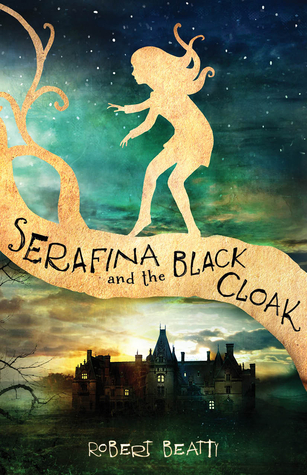 "Never go into the deep parts of the forest, for there are many dangers there, and they will ensnare your soul."
Serafina has never had a reason to disobey her pa and venture beyond the grounds of the Biltmore estate. There's plenty to explore in her grand home, although she must take care to never be seen. None of the rich folk upstairs know that Serafina exists; she and her pa, the estate's maintenance man, have secretly lived in the basement for as long as Serafina can remember.
But when children at the estate start disappearing, only Serafina knows who the culprit is: a terrifying man in a black cloak who stalks Biltmore's corridors at night. Following her own harrowing escape, Serafina risks everything by joining forces with Braeden Vanderbilt, the young nephew of the Biltmore's owners. Braeden and Serafina must uncover the Man in the Black Cloak's true identity… before all of the children vanish one by one.
Serafina's hunt leads her into the very forest that she has been taught to fear. There she discovers a forgotten legacy of magic, one that is bound to her own identity. In order to save the children of Biltmore, Serafina must seek the answers that will unlock the puzzle of her past.
The Witch's Boy by Kelly Barnhill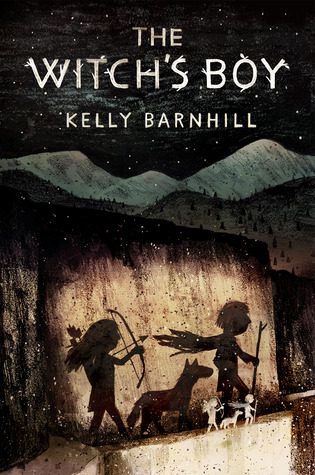 "A lightning bolt erupted from the cloud and aimed directly at Ned's heart. He couldn't cry out. He couldn't even move. He could just feel the magic sink into his skin and spread itself over every inch of him, bubbling and slithering and cutting deep, until he didn't know where the magic stopped and he began."
When Ned and his identical twin brother Tam tumble from their raft into a raging, bewitched river, only Ned survives. Villagers are convinced the wrong boy lived. Sure enough, Ned grows up weak and slow, and stays as much as possible within the safe boundaries of his family's cottage and yard. But when a Bandit King comes to steal the magic that Ned's mother, a witch, is meant to protect, it's Ned who safeguards the magic and summons the strength to protect his family and community.
In the meantime, in another kingdom across the forest that borders Ned's village lives Áine, the resourceful and pragmatic daughter of the Bandit King. She is haunted by her mother's last words to her: "The wrong boy will save your life and you will save his." But when Áine and Ned's paths cross, can they trust each other long enough to make their way through the treacherous woods and stop the war about to boil over?
With a deft hand, acclaimed author Kelly Barnhill takes classic fairy tale elements–speaking stones, a friendly wolf, and a spoiled young king–and weaves them into a richly detailed narrative that explores good and evil, love and hate, magic, and the power of friendship.
Best Young Adult
A Monster Calls by Patrick Ness, Jim Kay (Illustrator), Siobhan Dowd (Conception)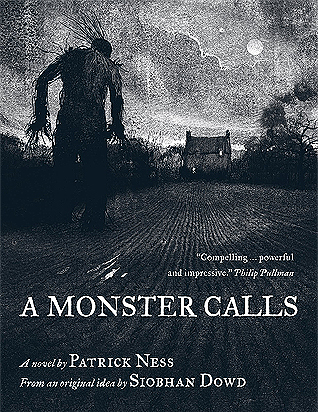 The monster showed up after midnight. As they do.
But it isn't the monster Conor's been expecting. He's been expecting the one from his nightmare, the one he's had nearly every night since his mother started her treatments, the one with the darkness and the wind and the screaming…
This monster is something different, though. Something ancient, something wild. And it wants the most dangerous thing of all from Conor.
It wants the truth.
Fun Young Adult
Love, Lies and Spies by Cindy Anstey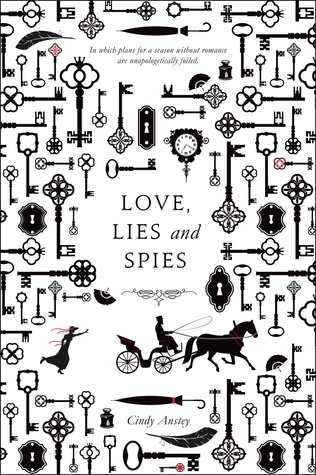 Juliana Telford is not your average nineteenth-century young lady. She's much more interested in researching ladybugs than marriage, fashionable dresses, or dances. So when her father sends her to London for a season, she's determined not to form any attachments. Instead, she plans to secretly publish their research.
Spencer Northam is not the average young gentleman of leisure he appears. He is actually a spy for the War Office, and is more focused on acing his first mission than meeting eligible ladies. Fortunately, Juliana feels the same, and they agree to pretend to fall for each other. Spencer can finally focus, until he is tasked with observing Juliana's traveling companions… and Juliana herself.
Best Poetry
I Am the Beggar of the World: Landays from Contemporary Afghanistan by Eliza Griswold (Translation), Seamus Murphy (Photographs)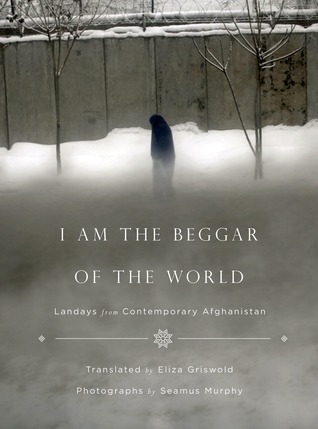 An eye-opening collection of clandestine poems by Afghan women
Because my love's American,
blisters blossom on my heart.
Afghans revere poetry, particularly the high literary forms that derive from Persian or Arabic. But the poem above is a folk couplet—a landay, an ancient oral and anonymous form created by and for mostly illiterate people: the more than 20 million Pashtun women who span the border between Afghanistan and Pakistan. War, separation, homeland, love—these are the subjects of landays, which are brutal and spare, can be remixed like rap, and are powerful in that they make no attempts to be literary. From Facebook to drone strikes to the songs of the ancient caravans that first brought these poems to Afghanistan thousands of years ago, landays reflect contemporary Pashtun life and the impact of three decades of war. With the U.S. withdrawal in 2014 looming, these are the voices of protest most at risk of being lost when the Americans leave.
After learning the story of a teenage girl who was forbidden to write poems and set herself on fire in protest, the poet Eliza Griswold and the photographer Seamus Murphy journeyed to Afghanistan to learn about these women and to collect their landays. The poems gathered in I Am the Beggar of the World express a collective rage, a lament, a filthy joke, a love of homeland, an aching longing, a call to arms, all of which belie any facile image of a Pashtun woman as nothing but a mute ghost beneath a blue burqa.
Best — ah — Short Stories? Fiction? Mythology?
Stories in the Stars: An Atlas of Constellations by Susanna Hislop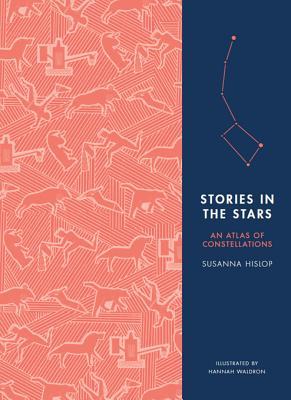 Travel the night sky and discover the stories in the stars.
Look up: above us is a jet-black canvas pricked with white dots, and a carnival of animals, mythical creatures, gods and goddesses in its shining constellations.
Here, Susanna Hislop – writer and stargazer – and Hannah Waldron – international artist – leap between centuries, cultures and traditions to present a whole universe of stories in all their blazing glory.
Stories in the Stars is an imaginative and whimsical exploration of each of the night sky's 88 constellations: a playful and stunningly illustrated compendium.
Best Non-Fiction
The Cruelest Miles: The Heroic Story of Dogs and Men in a Race Against an Epidemic by Gay Salisbury, Laney Salisbury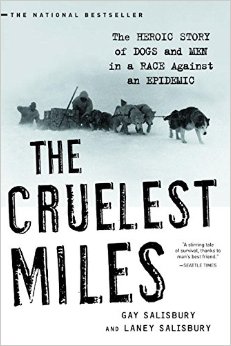 In 1925, a deadly diphtheria epidemic swept through icebound Nome, Alaska. The life-saving serum was a thousand miles away, and a blizzard was brewing. Airplanes could not fly in such conditions: only the dogs could do it. Racing against death, twenty dog teams relayed the serum across the Alaskan wilderness as newspapers nationwide headlined the drama, enthralling an entire generation. The heroic dash to Nome inspired the annual Iditarod Dog Sled Race in Alaska and immortalized Balto, the lead dog whose arrival in Nome over a snow-blown trail was an American legend in the making. His bronze statue still stands in New York City's Central Park, in dedication to the "Endurance, Fidelity and Intelligence" of the dogs that saved Nome. This is their story, the greatest dog story never fully told, until now.
I Am Malala: The Story of the Girl Who Stood Up for Education and Was Shot by the Taliban by Malala Yousafzai, Christina Lamb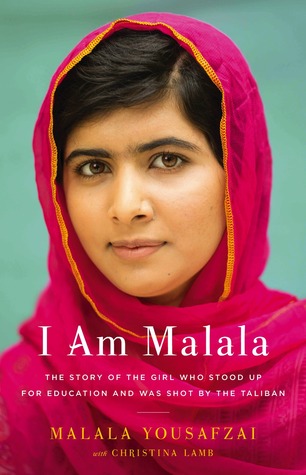 I come from a country that was created at midnight. When I almost died it was just after midday.
When the Taliban took control of the Swat Valley in Pakistan, one girl spoke out. Malala Yousafzai refused to be silenced and fought for her right to an education.
On Tuesday, October 9, 2012, when she was fifteen, she almost paid the ultimate price. She was shot in the head at point-blank range while riding the bus home from school, and few expected her to survive.
Instead, Malala's miraculous recovery has taken her on an extraordinary journey from a remote valley in northern Pakistan to the halls of the United Nations in New York. At sixteen, she has become a global symbol of peaceful protest and the youngest-ever Nobel Peace Prize laureate.
I Am Malala is the remarkable tale of a family uprooted by global terrorism, of the fight for girls' education, of a father who, himself a school owner, championed and encouraged his daughter to write and attend school, and of brave parents who have a fierce love for their daughter in a society that prizes sons.
I Am Malala will make you believe in the power of one person's voice to inspire change in the world.
Scribes And Illuminators by Christopher De Hamel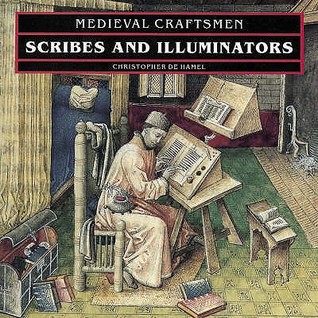 Illuminated manuscripts survive in great numbers from the Middle Ages. They are often beautifully preserved, enabling us to appreciate the skilled design and craftsmanship of the people who created them.Christopher de Hamel describes each stage of production from the preparation of the vellum, pens, paints and inks to the writing of the scripts and the final decoration and illumination of the book. He then examines the role of the stationer or bookshop in co-ordinating book production and describes the supply of exemplars and the accuracy of texts. He follows the careers of a number of specific scribes and illuminators who emerge not as anonymous monks but as identifiable professional lay artisans. He also looks at those who bought the completed books, why they did so, and how much they paid.His survey ranges from the eleventh century through the golden age of the thirteenth and fourteenth centuries to the luxurious manuscripts existing at the invention of printing.

What books did you love in 2016? Share them below!